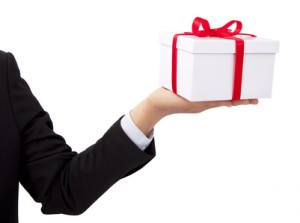 Promo gifts are great. Tell you something you don't know, right? Well, maybe what you don't know is how to choose the perfect promo gift to advertise your company. And that's okay. It's not the easiest thing in the world to do. After all, there are so many promotional products to choose from, it can be quite the process to select just one to represent your brand.
Not to worry. There are several factors that you want to take into consideration when making your choice. And lucky for you, we listed many of them in yesterday's blog. In today's blog, we'll continue to take a look at the various opinions of business owners across the world that can be found in the Rescue A CEO Blog. Let's pick up where we left off yesterday, shall we?
Serve your intended goal and catch the user's eye. According to Natalie Nathanson of Magnetude Consulting, "promotional products must do two things: they must serve your intended business goal and they must catch the user's attention." She advises that when you choose your promo gift, you must make sure that it can generate as much awareness and name recognition of your company as possible.
Choose a most memorable product. According to Richard Wilens of DoWilco Promotional Products, there are three steps that must be taken when choosing a memorable promo gift for your business. #1. Choose the right product to represent your brand. #2. Decorate it well making sure your brand name and contact information is clear. #3. Distribute in a smart manner. This includes deciding upon exactly who should be getting your gifts.
Get a product to demonstrate your brand. Sometimes, your promo gift should represent a direct reflection of what your business is all about. Lisa Dale of Signed Sealed Delivered writes that the key to choosing the perfect promo gift is to demonstrate to your ideal customers what your company is all about. The gift should reflect the likes and dislikes of your target audience.
Quality over quantity. According to Vladimir Gendelman of Company Folders, it's easy to be tempted to by cheap promo gifts. Resist that temptation, he insists. Promo gifts are already cost-effective. You'll want to make sure that you get high quality items so that your brand is reflected favourably when they are given out. What would be the use in handing out an easily breakable, unusable object?
Put thought into selecting which item is best. According to Jerry Rackley of Demand Metric, there are two critical characteristics of promo items: "1. They're well branded: the possessor can easily identify the association between you and the item. It not only has your branding on it, but your contact information. 2. They're kept: cheap promo items that don't last or are forgettable work against you – they break or just get tossed."
As you are aware, Synergy Marketing provides the best promo products in the business! And just in case you weren't aware, our awesome sales reps are standing by to discuss with you which gift would be the perfect one to promote your company. You now know what you need in order to make the right decision. Let's discuss it today! Give us a call at 1-877-748-9884.
Comments Off on 5 More Ideas About How To Select The Perfect Gift