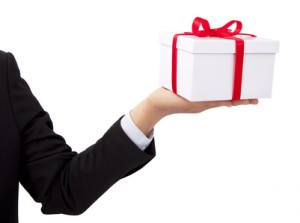 We certainly hope that you've been enjoying and learning a lot from our "Promo Product Week" blogs all week long. As you can imagine, we greatly believe in the power of promo gifts, here at Synergy Marketing. Our many years of experience have taught us that there is nothing quite like a branded promotional gift to develop a strong sense of brand loyalty within a customer.
Promo gifts can work for you too! According to Sherri Jones of BetterNetworker.com, "promotional items have been proven to largely increase sales for any business model. Some businesses are fearful of promotional items because they see it as extra expense and inventory." But it's important to remember that a marketing budget is always necessary. Your budget for promo gifts, however, doesn't have to be that big at all.
In fact, promo gifts are among the least expensive marketing strategies that you can adopt. As Jones points out, "when used, promotional items are very cost effective and cause a great buzz in the industry and in the public eye about your business and what you offer." She goes on to list her top five ways that entrepreneurs can market their businesses using promotional items.
Name Visibility. In general, your business name should pretty much be on everything you send out there for business purposes, believes Jones. That includes stationary, business cards, e-mail signature lines and so on. Naturally, promotional gifts such as note pads, pens and key chains should do the same. The only difference is that the latter three are a lot more useful and therefore noticeable on a regular basis.
Client/Customer Appreciation. Acknowledging your clients goes a long way. It is imperative that you remember just how important they are to your business. Is there anyone more important? Show your customers that you see their business as important to you. Adding that "extra touch", as Jones puts it, will keep you in their consideration for future business.
Trade Shows/Vending Events. These are great places to meet new people. That means they are also great places to make lasting impressions. When you participate in trade shows, you want to make sure that you are remembered by those you come into contact with. Your promotional items will do just that. Be sure that everyone you meet walks away with something special to remember you by.
Employee/Team Recognition. As we mentioned in yesterday's blog, your staff members should not be left out of the promotional gift-giving process. "Promotional products such as business tools or new inventory to use as performance incentives gives your team something to work towards in addition to their monetary bonus," writes Jones. This will encourage them to reach higher levels of success.
New Product Introduction. There are various ways to introduce new product lines to your client base. When you get your customers through the door, use your promo gifts as incentives for them to return. Your gifts, remember, are all about keeping in touch with your client. In other words, they are great reminders about your business. With promo gifts in hand, your clients can't help but recall your place of business.
Give Synergy Marketing a call at 1-877-748-9884 to order your promo gifts today!
Comments Off on 5 More Ways Promo Gifts Boost Business