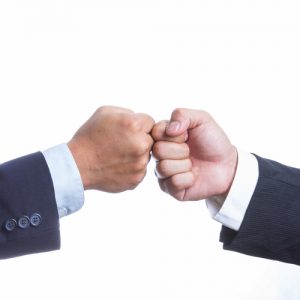 In yesterday's blog, we highlighted the benefits of surprising your customers. Going out of your way to show them that you care can greatly improve your brand's reputation and secure customer loyalty for the long haul. As we pointed out, adding personal touches to your customer interactions is a great way to "wow" and surprise your company's supporters. But what are the best ways to do that?
Here are five suggestions:
1. Offer "thank you" notes. An expression of appreciation can go a long way. Customers like to know that the businesses they support care about them. "With the endless amount of options out there, is it really so much to ask that a business say 'Thanks!' to a new customer?" asks Gregory Ciotti on Shopify.ca, "You might think that thank you notes have lost their impact, being that they are such a tried and true tactic, but you would be dead wrong."
2. Remember special occasions. In the "getting to know your customers" game, it's a good idea to keep in mind particular things about them. Are they parents? If so, it's a great idea to wish them Happy Mother's and Father's Days when the times come. Are they married? If so, you may want to send Happy Anniversary greetings their ways. "Call them on their birthday," reminds Rupesh Patel on LinkedIn.com, "Remembering your customers during these special occasions will convey to your customers that you are sincere about building a connection with them."
3. Be proactive. The better you get to know your customers, the easier it will be for you to guess what they'll need in the future. Of course, becoming a better people person won't turn you into a mind reader. But being able to gauge what products and services you offer that would most impress your client base is a great way to keep your customers engaged. Anticipating the needs of your company's supporters will certainly go a long way in keeping them happy.
4. Offer a life-changing opportunity. This sounds like a bit much, at first, doesn't it? But, as Patel explains, it can all be achieved through a very simple, yet memorable gesture. "It sounds unconventional, but giving your customers a lottery ticket is a great way to surprise them," he suggests, "Who knows? You might be giving out a lottery ticket that will eventually change someone's life."
5. Offer help without being asked for it. Ciotti offers an excellent example of this. "When a woman in the store lost the diamond from her wedding ring, she became distraught and began crawling around on the ground looking for the ring," he details, "A Nordstrom employee saw her crawling under the clothing racks. Once he found out what was wrong, he immediately got on his hands and knees and joined the search!"
Ciotti goes on to point out how such a gesture was an act of going over and above the call of duty. "When the duo came up empty-handed in the search for the ring, the employee asked for assistance from two building service workers," he continues, "Together, they sifted through vacuum bags until they found the diamond mixed in with dust and dirt. Now that's going above and beyond the call of duty, and it's the sole reason why Nordstrom has a (great) reputation."
At Synergy Marketing, we'd like to offer you our help in improving your personal interactions with your customers by helping you select the ideal promo gift to give them for free. To get more information or to place your order, give us a call at 1-877-748-9884 between 9am and 5pm EST or email us at info@gosynergygo.com! You can also sign up for our Insider E-Flyer Program HERE!
Comments Off on 5 Ways To Add Personal Touches To Your Customer Interactions