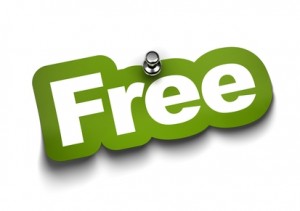 When most business owners first hear about the concept of giving their customers something for free, they consider it a crazy idea. How can one make money by giving things away? Sure, at first it may seem like there is no way to profit when no money is earned for the passing on of an item. But the truth is that freebies have a long history of bringing in more money for business owners than not.
On IveTriedThat.com, Halina Zakowicz explains the advantages that can be had by business owners who give out freebies. "People go nuts when something free is offered, even if that free item isn't that great," she writes, "However, people will still go nuts over a free item even if that entails buying more." And with that, she points out one of the primary advantages to handing out something for free.
Often this practice entails that something else will be paid for. We all know about "buy one, get one free" deals. We also know about "free for the first month" subscriptions. So, you see, depending on the marketing campaign you wish to roll out, a freebie can certainly help to build your business. Zakowicz goes on to list a number of ways that entrepreneurs can use freebies to their advantage.
1. To build website traffic. Remember that people tend to flock to the internet a lot quicker than they do to brick and mortar store locations to check out what various companies have to offer. As a result, "you can offer free ebooks, software, courses, etc. as a way to build traffic to and interest in your business," suggests Zakowicz. However, it's important to keep "interested parties" on your website even after they've collected their freebies.
2. To collect customer information. Giving things away for free doesn't mean that you actually have to give them away for free. Huh? What we mean is that while your freebie doesn't have to cost your customers any money, perhaps what you get in return is their names and email addresses. "Thus, the actual price of 'free' stuff is usually information," writes Zakowicz, "The email list is where most business is done and where the real sales are made."
3. To communicate your commitment to quality. Just because people love getting things for free doesn't mean that your freebie should be of poor quality. "Give away the highest quality," insists Zakowicz, "The first way to ensure audience return is by giving away only your highest quality items for free." That way, she continues, you will encourage your audience to return. You don't want them thinking that you have nothing valuable to offer.
4. To increase your online popularity. Keep in mind that referrals mean everything in this day and age. And that's especially true thanks to the popularity of social media. "A quality freebie is invariably shared with others," says Zakowicz, "Your audience members may find your free content so useful that they end up passing it on to other people that they know. These people are also wowed by your freebie, visit your website and even sign up for your email newsletter."
5. To provide payback opportunities. We've often said, on the Synergy Marketing Blog, that handing out promotional gifts is a great way to show your appreciation to both your customers and employees. And as Zakowicz points out: "If you consistently impress people with your high quality freebies, many will look for ways to pay you back for your gesture(s) of goodwill. Don't pass up on these opportunities!"
Get your hands on the best possible freebies available in our industry by calling Synergy Marketing at 1-877-748-9884 today!
Comments Off on 5 Ways To Use Freebies To Your Advantage