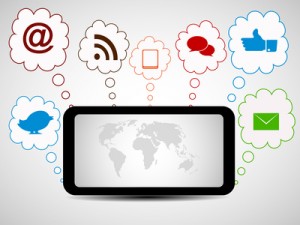 In yesterday's blog, we continued down our path of "free online promotion" blogs by taking a look at some ideas that small business owners can use to boost their businesses using the internet. It's a lot easier than you think – and cheaper too! Obviously, it doesn't get much cheaper than "free". But, of course, some of the ideas take a bit of effort and creativity. After all, we're living in a world where people flock to the internet more than ever.
That means that if your brand doesn't have a strong internet presence, it's practically non-existent. On SearchEngineWatch.com, Carrie Hill says as much by listing 30 different ways that entrepreneurs can promote their businesses online for free. Among them are ideas to show off your expertise in your field by writing "how-to" articles or better yet, filming "how-to" videos. There are, however, some specific sites that are among the most popular ways in the world to spread the word. Here are our top six.
1. Get on Facebook. This is a tip that we've been following for some time now. Facebook is arguably the most popular social networking site in the world. Even Hill admits that "Facebook is so much more robust than it ever was!" and suggests that you "create groups, events, and photo albums. Link to your Facebook profile from your site and allow visitors to your site to like and share your content."
2. Get on Twitter. Right up there with Facebook is Twitter when it comes to world's most popular social networking platforms. And yes, this is a tip that we follow ourselves. Each and every business day, we post links to our blogs on both our Facebook and Twitter pages in an effort to drive more traffic to our site. "Start Twittering or start doing it much better than you are now – it's a great way to network with like-minded individuals," insists Hill.
3. Get on Pinterest. According to its website, "Pinterest is a visual discovery tool that you can use to find ideas for all your projects and interests." And as Hill explains, "Pinterest is hot right now. If you have visually stimulating content that is relevant to the site's demographic, you can find great success right now. Be sure you're using solid practices for marketing on Pinterest as you get started."
4. Get on Google+. According to its website, "Google+ is a place to connect with friends and family, and explore all of your interests." "Build a Google+ page for your business and follow businesses that are related to your product or service niche," writes Hill, "Share informative and relative content and link to your profile from your website. You should also consider allowing users to +1 your content on a page by page basis."
5. Get on Flickr. In yesterday's blog, we mentioned how much people love watching videos online. However, that doesn't mean that the still picture has lost its lustre! Flickr offers "picture galleries available with social networking, chat, groups, and photo ratings," the site describes. Hill advises that you should "share your photos at Flickr – get a profile, write descriptions, and link to your website. Don't share photos you don't own or have permission to use."
6. Get on Instagram. While this particular tip didn't make Hill's list, it should not be left off of ours. Instagram is a widely popular website and app that people use daily to post photos. As the site describes itself, "Instagram is a fast, beautiful and fun way to share your life with friends and family." Take pictures of your products and post them with descriptions of just how great they are. The possibilities are endless!
Comments Off on 6 Free Social Networking Platforms That Grow Your Business