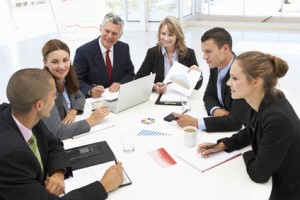 Running a successful business requires the cooperation of several people. In some cases, that may only be two people. And in others, it requires the unification of a large group. No matter the size of your business, teamwork is an imperative part of making it grow and prosper well into the future. And how can you ensure that all of your staff members are on the right page? It's important to conduct business meetings the right way.
Now, this may seem like an easy task. And it may also seem like a no-brainer piece of advice. All business owners know how to hold business meetings, right? But are they holding them in a way that promotes productivity and efficiency? On Chron.com, Louise Balle writes that "sometimes a meeting isn't productive due to the lack of well-established rules." She goes on to offer a number of steps to help guarantee a worthwhile outcome.
1. Start on time. A lot of business meetings get off to an unproductive start simply because they do not start on time. Balle insists that you call your meeting to order at its scheduled start time regardless if people are running late or not. Latecomers, she says, will simply have to catch up during or after the completion of the meeting. This will encourage everyone to show up on time. Those who consistently do not will require some feedback about their tardiness.
2. End on time. Sticking to a schedule is important. Remember that all meeting participants have jobs to do and keeping them in meetings longer than expected can inhibit their plans to meet deadlines on projects that they are working on. Keeping your meetings within specific times will help you to address all of your concerns effectively. "If you can't cover all of the points within the allotted time, move it to the agenda of the very next meeting," suggests Balle.
3. Take minutes. It's important to be able to recall the points made at your meetings. This will be the best way to follow up with your team to ensure that they are following suit on the various plans that you've set forth. Having a record of what was discussed will keep you on track. "Ask a secretary or other meeting participant to take minutes at every business meeting so that everyone will recall what was discussed and decisions made," advises Balle.
4. Pass out a written meeting agenda. To clarify the direction of your meeting, each participant should receive literature covering the major points to be covered. Balle writes that it should also cover how long each point will be discussed during the meeting while allowing time for discussion about these points. As well, she notes that the minutes from the last meeting should be handed out as well. This will keep everyone in the loop about the company's progress.
5. Introduce guests before the meeting begins. Sometimes your meetings will call for a guest speaker. You may know some industry experts who you've had the opportunity to meet over the course of your career. Perhaps, you could hire a motivational speaker who is an expert at boosting employee morale. Don't leave your speaker or your meeting participants hanging. Start the meeting off with a proper introduction.
6. Summarize the purpose of the meeting. Balle suggests that when the meeting begins, you inform your staff about the various points you plan on covering. You'll notice that her tips insist upon being very thorough and forthright with your employees. Ensuring that everyone knows what will be discussed is an important step in getting the meeting off on the right foot. Then begin with the first item on the agenda, she advises.
Be sure to check back for tomorrow's blog as we unveil some more tips on how to conduct the perfect business meeting!
Comments Off on 6 Steps To Conducting Business Meetings The Right Way