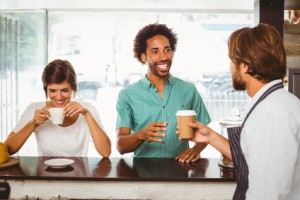 In yesterday's blog, we discussed the importance of rewarding your employees for their contributions to your business. The members of your staff are, quite obviously, integral to the success of your business. Without their hard work, your company would not be able to function. Therefore, it's always important to acknowledge the jobs well done of the individuals that make up your team.
Your customers, of course, are also individuals that deserve your gratitude. Without them, your company would not be able to thrive. It's important to show your customers that you value their business. And while you many not necessarily wish to hand out awards in much the same way The Oscars are handed out, there are various ways to reward those who are loyal to your brand. Here are six ways to reward your customers for their support.
1. Offer discounts. The people who love shopping at your store still have options. They may find items in other stores that they prefer over yours. However, when you offer discounts on selected items, you will be encouraging them to stay loyal to your brand. On the UK-based Marketing Donut website, this is advised. "Limited time offers can encourage prompt purchases, but you must make sure you publicise the scheme," reads the site.
2. Create exclusive clubs. It's important to make your loyal customers feel special. Perhaps, you can start an emailing list – if you haven't already – that offers special deals to those who subscribe. You may even want to begin a loyalty program that gives members points for every purchase they make. On CustomerExperienceInsight.com, Michele McGovern writes that certain companies also organize community events for loyal customers to take part in.
3. Show gratitude for referrals. Your happiest customers are the ones who are most likely to refer your company to their friends and family members. The Marketing Donut suggests that you show your gratitude towards those who promote your brand through word-of-mouth. "Give customers a reason to recommend you to friends by offering them discounts and free gifts in return for every new customer they introduce to your business," says the site.
4. Go over and above. Are you in the repair business? Do you own a company that offers maintenance on the products it sells? If so, you always want to make a great impression on the customers you serve. And we don't just mean by completing the job at hand. Making the repair is what the customer asked for. Returning the item looking completely brand new is going over and above the call of duty. McGovern suggests that this is a gesture customers will appreciate.
5. Offer freebies. This is a big one, here at Synergy Marketing. Naturally, we're big on providing customers with free gifts. Marketing Donut advises that you should invite customers to special events where they may try out your products and services for free. "Asking trusted customers to give you feedback on a new offer before you launch it will give them a sense of ownership over the product which is likely to result in sales later on and good word-of-mouth recommendation," suggests the site.
6. Offer bonuses. People love getting things for free. This is a point that we believe has been made pretty clear. So when a customer spends a lot of money at your store, it is worthwhile to give him or her a little extra. It will go a long way. "Offer additional products and services at cost," says The Marketing Donut, "This works particularly well if the products or services are associated – for example, safety equipment to go with machinery."
Synergy Marketing's promotional products are, in our opinion, the best giveaways that money can buy. Contact us at 1-877-748-9884 to order the promo gifts of your choice today!
Comments Off on 6 Ways To Reward Your Customers For Their Support