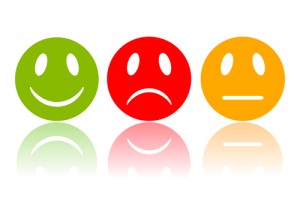 Generally speaking, ensuring customer satisfaction is on the top of to-do lists had by all business owners. However, satisfying customers isn't always easy. In fact, we've all experienced those incidents when customers get upset. Really upset! The last thing any business owner wants is to lose business and anger a member of the buying public who is bound to spread the news about their dissatisfaction. So what to do when customers get angry?
Here are three ways to resolve issues with disgruntled customers:
1. Apologize – sincerely. Saying "sorry" should be the most obvious go-to response to anyone who is upset because of an interaction with your business. Regardless if you feel the occurrence is the fault of your company or not, it's important to acknowledge that your customer is upset because of it. Be sure to offer genuine apologies as people can easily tell the difference between sincerity and lip service. A disingenuous apology is only bound to make things worse.
On Inc.com, Ron Burley highlights the importance of saying sorry and meaning it. "A sincere apology tells your customer that you regret his having to interrupt his day to make that call," he writes, "An apology defuses the situation and can allow for a conversation in which you get an opportunity to diagnose what went wrong, with the possibility of preventing similar future problems."
2. Follow up with the customer post-resolution. Don't assume that just because your last conversation may have ended on a pleasant note that all is well with the world in the mind of your customer. Be sure to put in a follow up phone call or email to ensure that he/she is still satisfied with the resolution. This will leave a lasting impression that may be the key in encouraging that customer to continue to work with your business in future.
"Whatever promises you make to the customer to resolve the issue, be sure to follow up," advises Shari Waters on About.com, "Call when you said you would call. Even if you don't have the resolution, let the customer know you're sticking to your word. This shows the customer that his/her business is important to you and you're actively working towards getting things fixed."
3. Thank the customer for his/her honesty. That's right. When you have an angry customer to contend with, you should actually include a word of thanks in your response. Why? He/she is offering you the opportunity to improve your business. If there is a facet of your brand that is not being met well with its supporters, your ability to correct the problem will help you to avoid it with any other customers in the future. You should be grateful to have attained this knowledge.
"At first glance, it may seem like your customer should be the one expressing gratitude," says Burley, "But think about it. In his mind, he paid for a product or service that didn't perform as expected, and was then required to spend professional or personal time to work out a remedy. On the other hand, you've likely gained important information about product performance and how customers perceive your company. In my mind, that's certainly worth a 'thank you.'"
Be sure to check back for tomorrow's blog as we continue to list ways to improve relationships with angry customers!
Comments Off on 3 Ways To Resolve Issues With Disgruntled Customers