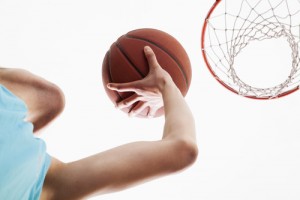 The Toronto Raptors lost quite the heartbreaker in Game 4 of their East Conference Semi-Finals showdown against the Miami Heat this past Monday. Having to be decided in overtime for the third time in the series, the game ended in a 94-87 loss. It was a hard one to swallow for Raptors fans who saw their beloved team lead for the majority of the game. With Game 5 back in Toronto tonight at 8 p.m., the tension amongst fans has arguably never been higher.
Perhaps, anxiety is a better word for it. The Raptors have taken their fans on quite the roller coaster ride throughout this postseason. It seems like they win games you think they're going to lose and they lose games you think they're going to win. One of the biggest problems the Raptors faced in the overtime period of Game 4 was a lack of rebounding. Tonight, they'll have to rebound against the loss.
With the exuberant Toronto faithful backing them both inside and outside of the Air Canada Centre, there will certainly be no shortage of encouragement for the team. And, as always, the ups and downs of Toronto's pro sports teams reminds us, here at Synergy Marketing, that businesses go through very similar ups and downs. And just like our favourite teams, they too must learn how to rebound from their losses.
What should business owners do to rebound from their losses?
It starts with accepting failure. Making excuses and not accepting the fact that you've failed is a great way to not learn from your mistakes. It's important to carefully assess where you went wrong, admit it, accept it and discover ways to remedy the problem you encountered. Accepting failure is not giving up. It involves understanding that you can't necessarily do things the way you first believed you would. Finding a new path will help you reach success quicker.
Jose Vasquez of HuffingtonPost.com insists that you accept your failures. "The first step is sometimes the hardest," he writes, "Admitting you've failed is difficult even for the most mature, experienced entrepreneurs. True, you should never give up on something you truly believe in. But if you're going to keep moving forward, at some point you have to acknowledge the walls that are blocking you."
It's also important to take responsibility for your actions. No one likes being the scapegoat. But sometimes, owning up to your "bads" can make or break the reputation you have with those who work for you and with you. Be honest about your missteps and take measures to apologize for them. This humbling of yourself will do you a lot more good than harm in the long run. It will help you to gain favour with those you may have disappointed and can earn you a second shot.
"Even if the failure wasn't your fault, you have to take responsibility," insists Vasquez, "It is now your job to make sure this doesn't happen again. Brainstorm with your team, hold discussions, and be open — but take ownership of the failure and drive a new change." He goes on to encourage mistake-makers to set new goals so that they can still make their businesses the successes they've always dreamed of.
Be sure to check back for tomorrow's blog as we continue to examine ways in which you can help your business to rebound from a loss. And say it with us…Let's Go Raptors!
Comments Off on Learning How To Rebound From A Loss