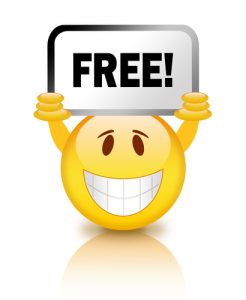 We really have to say that we've nailed it with the title of today's blog! We're not sure we've ever come up with a blog title that is more accurate in depicting what Synergy Marketing stands for. More importantly, today's blog title is a testament of truth for any business owner in any industry. If you're looking to truly "wow" your customers, you simply can't go wrong with offering them something for free.
At Synergy Marketing, we have many years of experience proving this. Our clients regularly communicate to us how much our fantastic promotional products please their customers. Especially when those gifts are specifically chosen to meet the needs of particular customer bases, they come off as amazingly thoughtful and generous expressions of appreciation. Customers expect to pay for goods and services. This is likely why it's so rewarding for them to get things for free from businesses.
On LinkedIn.com, Rupesh Patel explains the feelings that customers get when they are met with such surprises. "Everyone likes freebies!" he exclaims, "No matter how small your gift may be, your customers will surely appreciate the gesture. A bottle of water or cold drink upon arrival. A local Italian restaurant often asks me if I would like a complimentary beverage while I wait for my take out. – This is a great memorable surprise."
Being memorable, it needs to be mentioned, is a huge part of growing the success of your business. By offering a freebie, you significantly stand out from your competitors who are not offering their customers anything for free. One of our clients recently explained to us that a recent trip to a restaurant was memorable, not just because of the great food he ate, but because of the coupon he received for a free appetizer the next time he visits for a meal.
Guess who's going back to that restaurant in the near future? On Shopify.ca, Gregory Ciotti explains that restaurants don't even have to offer appetizers to bring customers back. The customary, complimentary after-dinner mints can often do the trick. "If you've ever read that fascinating study about the power of mints—where waiters received a 21% better tip when they left two free mints—you know that reciprocity is a powerful psychological trigger, and that it doesn't take much for a gift to leave an impact," he informs.
He goes on to mention that when freebies are given to customers, they leave lasting impressions. This is especially true if the freebie is of special significance to its recipient. Keep in mind the personal interests of the people who support your brand. Ask probing questions and learn more about their likes and dislikes. When you offer freebies that speak to these preferences, you'll stand a much greater chance of securing long-time loyalty.
"The amazing team at UserTesting.com asked for my home address out of the blue one day," reports Ciotti, "After telling them, about a week later I got a package in the mail filled with delicious beef jerky! Why beef jerky? UserTesting.com sells, well, user testing software, so that's a little odd isn't it? Here's where things get crazy: I had briefly mentioned on Twitter that quality beef jerky was putting a dent in my wallet."
Ciotti admits to being astounded that the company's marketing strategist would remember something like his love for beef jerky. At Synergy Marketing, we highly encourage you to think of the things that your customers would like to receive from you for free. The better the surprise, the stronger the impact! Of course, we offer a wide range of amazing high-quality promo gifts that can serve as your surprising freebies.
To place your order for the promo gift of your choice, give us a call at 1-877-748-9884 between 9am and 5pm EST or email us at info@gosynergygo.com! You can also sign up for our Insider E-Flyer Program HERE!
Comments Off on Nothing Beats Freebies In The World Of Customer Satisfaction