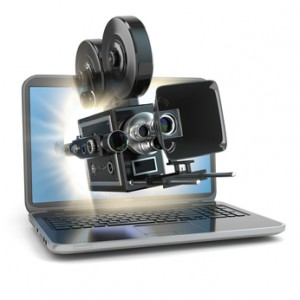 There is a ton of ways to promote your business using social media. Facebook and Twitter are all the rage these days and, as we've often blogged about, they are great ways to spread the word about your business. Gone are the days when business owners could simply resort to handing out flyers and pamphlets. Today, it's all about likes, comments, tweets and retweets. These are the things that get you noticed!
Arguably, the most awe-inspiring, eye-catching and attention-grabbing element of social media is the video. Yes, people love to post pictures. But when those pictures move, it just provides something special. It's not that promotional videos are new or anything. After all, people have been watching television – and therefore, television commercials – for decades. So what is it about watching videos online that makes it so popular?
"Everything is on demand nowadays," offered one of our sales reps when asked this question, "People love being able to decide what's on TV, or now their computers. You can click on as many videos as you like, stop them whenever you want, rewind them, watch them again and then send the links to anyone you like who you think will want to watch it too." Well, that makes sense now doesn't it?
If online videos allow for viewers to make decisions as to what they watch, when they watch it and how often they watch it, why wouldn't they take an interest in that? This is why it's important for you to consider utilizing online videos to promote your business. And there's a bunch of ways for you to do that. One of the best things about social media is that there are no specific rules.
That means that you can pretty much make a video about anything you like. It can be as long or as short as you want it to be. You can post the link to your Facebook and Twitter accounts and email it to your friends and clients. And all you really need is a video camera and a YouTube account. And by video camera, that doesn't exclude the one that comes with your smartphone. Don't forget that a YouTube channel is free and easy to set up. So what are you waiting for?
Register.com agrees that online video marketing is the way to go for entrepreneurs. And even though the site does admit that "with everything small business owners have on their plate, it's probably difficult to imagine finding the time to produce and post videos on your Web site," it goes on to offer a number of compelling reasons as to why they should. Here are two from their list.
It's cheap. "You can do it yourself with a cheap digital video camera or even a cellphone that has a video camera built in," reiterates Register.com, "You could also tap your local high school, community college or community radio station for talent to help you create low-cost but better-quality video." At the end of the day, it's definitely a low-cost advertising solution that is bound to get you noticed.
It attracts visual learners. Different people learn in different ways. You're likely well aware of that, considering the number of people you've hired to work for you over the years. As the website points out, "adding video allows you to better reach visually-oriented customers". Consider adding doses of your wit and charming personality to your videos. They just may be the perfect way to get members of your target audience to like you!
Be sure to check back for tomorrow's blog as we provide a few more of Register.com's reasons to use online video marketing to build your brand.
Comments Off on Outlining The Benefits Of Online Video Marketing