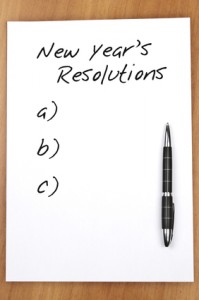 Happy new year! Welcome to the first entry in the Synergy Marketing Blog for 2015. Firstly, we'd just like to remind you that our offices are currently closed for the holidays, but we will be opened bright and early on Monday, January 5th to serve you. We look forward to working with you in an effort to make this year your most successful one yet. Naturally, we've been blogging a lot lately about how business owners can grow their companies in the new year.
And now that the new year is here, it's time to get off to making those New Year's Resolutions of yours come true! But as Melinda Emerson points out on SucceedAsYourOwnBoss.com, "many people think resolutions are a waste of time." She notes that this is likely because so many of us go about them the wrong way. It's important to set goals that you can actually accomplish, she says. That's the first step to going about things the right way.
"You've got to aim for something in order to move your business to the next level," says Emerson, "However, don't expect the stars every time. Remember those 10 pounds you've vowed to lose every New Year? Your goal may be too lofty, which makes you feel like resolutions are bunk. Do aim high, but within reason." And with that, she provides three ways to make your resolutions come true.
1. Be Really Specific. Don't just say that you want to grow your business. Give yourself a specific goal that you would like to achieve as a business owner. Then consider the legitimate methods you can employ to achieve those goals. Perhaps you need to hire new employees. Maybe you need to take advantage of a new marketing strategy. Whatever your plans are, be sure to know what the end goal is.
"You want your goals to be as detailed as possible," Emerson advises, "Say how you want to grow it. Quantify how much you want to increase sales. The more specific you are, the better you can measure results. If you can use numbers in your resolution, do so. If you want to increase sales, include what this year's sales were so you can easily compare." If you don't provide yourself with a specific goal, it isn't all that likely it will be met.
2. Take Action. Too many people make plans, but fail to follow through on them. This has become the stereotype with New Year's Resolutions. So be sure to write down a list of actions that you plan on undertaking in to order to see your plans through. Emerson suggests that you assign your tasks to the various members of your team and provide deadlines by which they need to be completed.
3. Review at Year-End. Now that 2014 is over, how well did your accomplishments for the year line up with the goals you set when it began? If you don't know the answer to that question, it's definitely time to start with some better record keeping. How else will you know how much you've succeeded if you're not reviewing what you've attempted and what you've achieved? Emerson insists that by the end of this year, you're able to clearly assess your success.
"In a year, look at those resolutions again and assess which you can check off your list and which you didn't," she writes, "Pay attention to those you didn't achieve. What were the reasons? Did your team handle all the necessary tasks? Did your business shift focus? Use this information to guide you in creating next year's resolutions. Pay attention to the progress of your goals throughout the year."
Comments Off on 3 Ways To Make Your Resolutions Come True