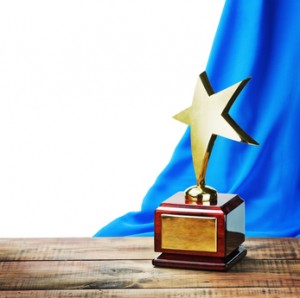 Last night's Academy Awards paid tribute to the best achievements in film over the past year. Commonly referred to as "The Oscars", the award show is one of the most popular annual television broadcasts. The film, Birdman, came out on top as a big winner, securing four Oscars including the highly-coveted Best Picture award. It is expected that a lot of today's water cooler talk will surround last night's award show.
Perhaps, this is the perfect opportunity for you to take advantage of the entire "awards" concept at your place of business. People don't just love watching award shows. They love winning awards even more! Handing out awards to deserving recipients in your office is an excellent way to promote employee morale. And, as is often said, the happier your employees are, the more productive they will be.
On SuccessFactors.com, a list of award ideas is provided. At Synergy Marketing, our amazing promotional products have very often been used to reward employees for their jobs well done. And we're not just talking about our own staff. Our clients often tell us how great our promo products work as incentives for their staff members. Here are five ways to present your employees with awards.
1. The "Golden (symbol of your company or department) Award". According to the website, this is a way to commemorate employees of the month in a special way. Acknowledge the outstanding achievements of a new employee each month by giving out an award (monetary, perhaps) that is more prestigious than the average mention. Making this "golden" award your company's equivalent of the Best Actor or Actress Award at the Oscars is a great way to promote productivity and results.
2. The "Queen/King of the Hill Day Award". This award acknowledges the special achievements of an employee, on a monthly basis, by giving the outstanding employee the closest parking spot, treating her/him to lunch and letting her/him off early with a gift certificate to the movies. Now, if that's not an award that your employees would vie for, it's hard to imagine what else would make them happy! Your awards should seek to make your employees happy they work for you.
3. The "Above and Beyond Award". Sometimes you need to go the extra mile to please your customers. And when a member of your staff has taken the liberty to do even more than he or she is generally asked to do, it's important to truly thank that person for the additional efforts. SuccessFactors.com suggests that you "pay for the employee and a friend to go to a local all-you-can-eat restaurant" to acknowledge such work.
4. The "Squeaky Clean Quality Service Award". When your employees provide outstanding service, they make your company look good. It's only fair that you help for your employees to look good in return! The website suggests that you award an outstanding employee with free dry cleaning. It's a nice and "clean" way to show your staff that you appreciate those who provide top-of-the-line customer service.
5. The "Lean and Mean Award". SuccessFactors.com also recommends that you show your gratitude to the members of your staff who have been able to save your company money. When someone performs the type of work that is cost-effective or saves you from overspending, you should offer that person a three month membership to the nearest gym. Giving the gift of health may arguably be the best gift you can give.
Then again, Synergy Marketing's promo gifts are pretty hard to beat! To order yours today, call 1-877-748-9884!
Comments Off on 5 Awards To Present Your Best Employees