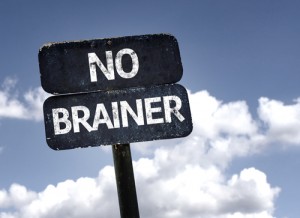 In yesterday's blog, we revisited the topic of brand image and listed a number of ways that business owners can improve theirs. It should come as no surprise that being active on social media is a well-heralded tip. Using the internet to improve the image of your brand is practically a no-brainer type of strategy in today's digitally-crazed world. In today's blog, we'll add to our list of no-brainers that boost your brand's image.
Here are three:
1. Update your website. The importance of having your website updated on a regular basis cannot be understated. When people visit your site on any given week and then decide to revisit it the next, it shouldn't look exactly the same. There should be some sort of new content that communicates that your business is keeping busy and doing well. Stale, stagnant websites give impressions that nothing is happening with the companies they represent.
"Like it or not, your website may be the first impression a potential customer has with your organization," says Elliot Markowitz on TheVarGuy.com, "Your website should be dynamic, contain updated industry news or company information, and include any relevant content feeds or blogs…Having a poorly designed or out-of-date, stagnant website will turn away potential customers fast."
2. Make your customers laugh. We're not just talking about providing excellent customer service. That's expected. To make your brand stand out, you'll need to employ interesting and every quirky ways to gain public interest. Why not post humorous videos to YouTube? It's no secret that people watch videos online each and every day. The marketing company, Forgelight Creative suggests that the creation of funny videos becomes a new practice of yours.
"How many times a week, or even a day, do you find yourself distracted by an entertaining video you saw on Facebook?" they ask on their website, "If this doesn't sound like you, trust me, it sounds like a lot of your potential customers. Consumers like companies that have a sense of humor, so if you really want your image to improve, try to make them laugh!"
3. Make your employees happy. If the people who represent your company in the public eye don't appear to love their jobs, you give little to no reason for the buying public to think very highly of your brand. If you truly want your company to have a strong brand image, ensure that each and every member of your staff is a staunch supporter of your mission statement. Markowitz highlights the importance of addressing corporate culture.
"Employees who have a positive work experience share it through their own social media channels and word gets around," he reveals, "Conversely, employees who are treated miserably or feel taken advantaged of also share. How you run your company is on display for the world to see. Companies will want to do business with like-minded companies that share the same values."
Of course, it's also always a good idea to put your brand's logo on a great promotional gift to hand out to your customers. To place your order for the promo gift of your choice, call Synergy Marketing at 1-877-748-9884 between 9am and 5pm EST or email us at info@gosynergygo.com! You can also sign up for our Insider E-Flyer Program HERE!
Comments Off on 3 No-Brainers That Boost Your Brand's Image