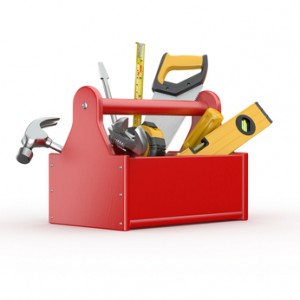 Readers of the Synergy Marketing Blog know that our staff is comprised of many a sports fan. And since we're headquartered in Toronto, Ontario, you can take a wild guess as to the sports teams that we most adamantly support. That being said, it should probably go without saying that there was on overwhelming sense of disappointment this morning as our sports-crazed staff members came in to work reeling from the four game sweep of their beloved Raptors in the NBA Playoffs.
It was bad enough that the Toronto Maple Leafs had such a horrible season that saw them miss the NHL Playoffs completely. But there were high hopes for our Atlantic Division-winning Toronto Raptors. Last night's showdown with the Washington Wizards wasn't even much of a contest. Our hometown Raps didn't look like they were in it to win it from the beginning. And now, there is much talk of rebuilding the team for next season.
Such an unfortunate circumstance is not exclusive to sports teams. Canadian business owners often find themselves in situations where they feel that rebuilding is necessary. Obviously, it takes a lot of work. But it should be noted that hope should never be lost for a brighter future. There are just a number of important steps that should be taken to steer your company in a better direction.
Here are three ways to rebuild your brand after a fall:
1. Solidify your strongest relationships. It isn't likely that the Raptors are going to have an entirely new line-up at the beginning of the next NBA season. Obviously, the team has some key players that will be important pieces of the puzzle to build around. If your business has experienced a fall of some kind, it's important to remember the pieces of your puzzle that are still worth keeping.
"Get a clear picture of resources and strengths," advises Claudette Rowley on Boston.com, "note everything that comes to mind, not matter how small it may seem." Do you have strong relationships with your vendors? Is your brand well-recognized? Are your investors committed to you? These are a few questions that Rowley intimates that you should answer to know what strengths you can work with going forward in your rebuilding process.
2. Determine your opportunities. Clearly, the Raptors are going to need some new players with new attitudes when they get back on the court for a new season. Naturally, when your company experiences a downturn, there are also changes that need to be made. What are they exactly? It's important to pinpoint the specific areas of concern before you go rearranging everything. Rebuilding will likely require a lot more than just new members of your team.
A "shift in your mindset" is necessary to change things for the better, says Rowley. Many business owners have turned missteps into learning opportunities to succeed in the past. "Sit your team down for a brainstorming session and ask the question: Now that we've lost that contract, what is available to us?" she recommends, "Make a list of every opportunity that comes to mind, whether it seems realistic or crazy. Sometimes what seems initially off-the-wall might be exactly what you need to rebuild."
3. Commit to a new plan. Once you've done the appropriate amount of research to determine what your problem areas are so that you can correct them, it's time to take a step in a new direction. Rowley insists that you specify who will spearhead the plan, who else needs to be involved and in what capacity, what action steps are required, what the deadlines are and who will be accountable to meet them.
At Synergy Marketing, we'd be happy to be a part of your rebuilding process. To effectively advertise your company at a low cost, call us to learn more about our amazing promotional products. We can be reached toll-free at 1-877-748-9884!
Comments Off on 3 Ways To Rebuild Your Brand After A Fall