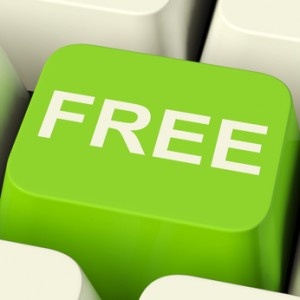 All week long, the Synergy Marketing Blog has been focused on the importance of giving things away for free. And why wouldn't it be? At Synergy Marketing, we're experts in the "giving things away for free" business. As you know, our promo gifts have long come in handy as marketing tools that help Canadian business owners grow the reach of their companies. But what steps are necessary in order to make freebies work for you?
Here are four:
1. Use freebies to reward loyalty. As most business owners know, marketing strategies should be centered on encouraging repeat business – not just one-time sales. Your objective should be to make people fans of your company. That way, they won't just support your current marketing efforts, but will be enticed to continue visiting your place of business for years to come. On Top7Business.com, Kate Marsden champions this concept.
Firstly, she suggests that your marketing campaigns be launched with the help of freebies. "Use a free offer to launch a new product or service and get some positive PR going," she recommends. Marsden also notes that, to keep customers coming back, you should use freebies to thank people for their support. "Use the free offer as an extra reward for loyal customers, especially at the points when you know customers are more likely to leave you," she advises.
2. Make your offer a "freemium". What's a freemium, you ask? As Lee Polevoi explains on Intuit.com, this is when a company offers a basic service for free, but charges a fee for its premium features. He notes that customers that take advantage of such free offers are most often compelled to support the business either right away or in the future. This concept falls in line with the idea of letting people sample your goods to encourage them to buy.
"Freemium offers often involve giving away limited-use software, such as a social game (which costs nothing to download and play), and then charging a premium to unlock advanced features or to purchase related products or services," Polevoi uses as an example, "Think about the ice-cream shop that invites you to sample its latest flavor on a tiny plastic spoon. Tasting that free sample is your first step toward placing an order, which may end up being two scoops instead of one."
3. Turn your freebie into a trade-off. It's true that the idea of giving away something for free shouldn't necessarily come with any strings attached. But that doesn't mean that your customers won't be willing to offer you something in return for your generosity. Marsden recommends that you offer your free products and services to your happiest of customers in return for testimonials about your brand.
4. Use your freebies as contest prizes. Who doesn't love an opportunity to win something? Contests are often great ways to elicit fun and excitement about your brand. Why not use use particular items as prizes for contests? By requesting people to sign up for your contest, you highly encourage increased visits from passers-by who may otherwise not have entered the doors of your store.
As you know, Synergy Marketing is only too happy to help you along with your freebie-giving ways. To place your order for the promo gift of your choice, call Synergy Marketing at 1-877-748-9884 between 9am and 5pm EST or email us at info@gosynergygo.com! You can also sign up for our Insider E-Flyer Program HERE!
Comments Off on 4 Steps To Making Freebies Work For You