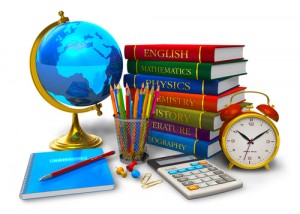 It's back-to-school season! Sorry kids, but there's no way around it. This doesn't mean that there aren't several days of summer left. There's still plenty of time to soak up the sun and enjoy all of the season's exciting events. However, in a few weeks, classes will commence and students and teachers will resume their non-summer lives. As a result, back-to-school shopping is all the rage right now.
What is your business doing to capitalize on this annual tradition? In yesterday's blog, we revealed some sound back-to-school marketing strategies. You'll notice that industry experts don't recommend shying away from utilizing social media to put the word out about your brand's new marketing campaign. There are, of course, many other ways to attract back-to-school shoppers.
Here are three more:
1. Create a back-to-school video. There are few things that pique the interest of internet-surfers more than interesting videos. Creating one that advertises your company's new marketing campaign may be the best way to attract new customers seeking back-to-school deals. The popularity of such sites as YouTube cannot be understated. But as Ruth Arber of AdWeek.com points out, other social media platforms can come in quite handy in this regard.
"If you have video assets, use Facebook and Twitter's auto-play video formats to drive high engagement and video views," she informs us, "Then re-engage users who watched your video content with a website tweet or link quote, that brings them to a site where they can browse more specific products." Evidently, the use of social media and your company website is of paramount importance to back-to-school marketing plans.
2. Always consider the kids. Yes, it's the parents that will be doing most of the shopping for their young school-bound children. But it's important to remember that, in many cases, it's the kids who will be influencing their parents' buying decisions. Your marketing campaign should be student-focused. When you meet their needs, you encourage them to get their parents to spend money in your store.
You don't have to take our word for it. On SocialMediaToday.com, Mark Cooper makes this point pretty clearly. "It's not only adult shoppers who are getting savvier," he reveals, "Moms with kids between the ages of 6 and 17 are highly influenced by their offspring. Marketers need to not only appeal to parents, but also to their kiddos. Run campaigns geared towards students so they ask for your products by name."
3. Give out back-to-school promo gifts. A few weeks ago, our blog listed some of the best back-to-school-themed promotional products that Synergy Marketing has to offer. Among them are the 5 In 1 Ruler, the Retractable Mouse Pad and the Memo Pad with Pen. All great items that can be used in the classroom, our promo gifts are excellent ways to endear customers to your brand. These gifts, in particular, are especially appreciated during this time of year.
Please feel free to give us a call at 1-877-748-9884 to further discuss the promo gifts that can best help to boost your brand during this back-to-school shopping season. As always, our sales team is happy to answer any questions you may have. Learning is what going back to school is all about, isn't it? Furthering your education about how to effectively market your brand is what Synergy Marketing is all about. Talk to you soon!
Comments Off on 3 More Ways To Attract Back-To-School Shoppers