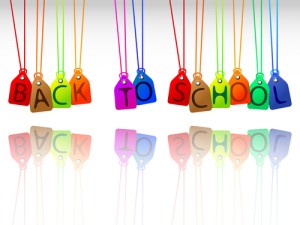 Last Friday, we listed some of our favourite back-to-school-themed promotional products in our blog. With the beginning of a new school year just a few weeks away, it's important to consider the various ways that you can help your business attract more customers who are preparing for it. Naturally, Synergy Marketing highly recommends the handing out of promo gifts that may help people make the transition back into school.
But, we also recommend coming up with a marketing strategy that will encourage more people to visit your store to begin with. Keep in mind that the back-to-school season doesn't just affect students. Parents, teachers, babysitters and pretty much everyone else who experiences changes in their daily lives once September rolls around each year need your help. Is there a way your company can help with the transition?
Here are three ways to market your brand around back-to-school:
1. Start a back-to-school campaign on social media. It should come as no surprise that your Facebook and Twitter accounts can be used to help you promote your new campaign. As always, social media profiles help to spread the word about your business by involving friends and followers in conversations. Posting a question as simple as "How are you preparing for back-to-school?" may even help to spark an idea that you can take advantage of.
On Care.com, Rachel White encourages the use of social media to get your back-to-school campaign going. It's a great way to connect to parents and students alike. "Use technology to your advantage at this time of year," she advises, "Social media outlets are the perfect way to let parents know you are there for them. Host open events, and send invites and connect with customers and potential clients in real-time."
2. Create a back-to-school tie-in. You may be thinking that the products and services that you offer have no ties to the back-to-school season. But that's not actually true. There are always ways to help people who are affected by this time of year. For example, if you own an auto body shop, you can create a campaign that involves you offering a discount on car maintenance services for students and their parents.
Perhaps, you could simply ask your customers to show school pictures of their children to take advantage of the deal. Just be creative! On About.com, Susan Ward offers up a few other examples. "A business selling cleaning products might back to school market its products as great for cleaning dorm rooms and sell a special 'studentpak' of products," she offers, "A watch repair business might run a 'be on time for school' special."
3. Target those teachers. When thinking about back-to-school marketing campaigns, it's important to consider the needs of our educators. "Teachers are another great group to target with your back to school marketing ideas if your products or services are appropriate," writes Ward, "Many of the marketing ideas that apply to parents will also work for teachers." She goes on to provide a few worthwhile ideas.
A "car detailing business could offer a special package for teachers only", she suggests. As well, "an educational supply store could offer teachers memberships or discount cards" and "a restaurant could offer teachers only a free dinner entrée during the first month of school." She goes on to remind business owners to consider the needs of their respective target markets when thinking up ideas to market their brands around back-to-school.
Don't forget that to get your hands on some great back-to-school-related promo gifts, you can call Synergy Marketing at 1-877-748-9884!
Comments Off on 3 Ways To Market Your Brand Around Back-To-School