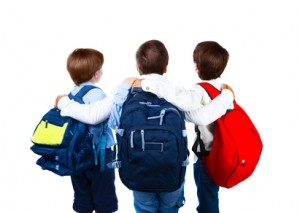 Okay, it's time to finally admit it. While most of us are still telling ourselves that "there is still plenty of summer left, the "back to school" season is officially upon us. At this time, next month, the kids will be headed back into class and that means that parents will need to prepare starting now – if they haven't already. As a business owner, that also means that you have yet another opportunity to take advantage of an important time of year.
Are there ways that you can create "back to school" promotions to encourage more customers to visit your store this month? Of course, there is! And on Ntent.com, Patricia Garcia writes that "whether you are selling clothing, school supplies, or dorm furniture, there are lots of ways you can attract school shoppers to your business and take advantage of this busy shopping season." Here are five "back to school" marketing ideas she shares, and one of our own!
1. Think outside the box. Not all business types are considered those that are necessary for school supplies. So if you're an owner of one of those businesses, consider a creative approach to attracting new customers in the coming weeks. Garcia suggests tying in a "healthy school lunch ideas" promotion for those in the food industry or special discounts for parents and teachers at hair salons, gyms and spas.
2. Put yourself in your consumer's shoes. Are you a parent? Hey, you know what it's like to be a student, don't you? Consider the needs of your audience and how to best address them. It's important to understand their mindset, says Garcia. "This is a busy time for your consumers as they are rushing to get everything they need before school starts so it is important to communicate budget, quality, and ease of shopping in your promotions," she writes.
3. Promote your business across a variety of channels. As Garcia points out, modern technology allows you to advertise your company in a variety of ways. It's important to make use of all the outlets that you can to promote your latest "back to school" specials. They include "your website, mobile site, social media accounts, email promotions, and any form of online or local advertising," she reminds us.
4. Show support for local schools and causes. Is there a better way to boost your "back to school" specials than to have actual schools support it? One way to achieve this is for you to show your support to your local schools. "Create a promotion for your products or services and have a portion of the proceeds be donated to a local school," suggests Garcia, "You can also partner with schools to sponsor school-related events or fundraisers."
5. Hold a "Last Chance" Sale. "With all the hustle and bustle and rush to be prepared for when classes start, parents are on the lookout for the quickest solution to their problems, at the best price," writes Garcia, "'Last chance' sales mirror this sense of urgency by offering last-minute discounts on quality products to draw customers in." This will encourage customers who may have been putting off making their purchases to buy from you with a greater sense of urgency.
6. Hand out school-themed promotional gifts. At Synergy Marketing, we believe that all marketing strategies work better when promotional gifts are involved. For your "back to school" promotion, hand out some great gifts that can be used in the classroom. Rulers, markers, tape measures and mouse pads are just a few of our favourite ideas. And we have the best ones around! To place an order, simply call us at 1-877-748-9884.
Comments Off on 6 Great "Back To School" Marketing Ideas