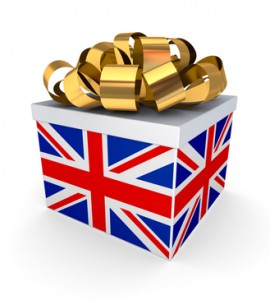 In Canada, promotional products have been helping business owners to grow their brands for decades. But, as we've revealed in some of our recent blogs, the handing out of promo gifts is an advertising strategy that is enjoyed by entrepreneurs from all over the globe. On Brandwatch.com, Richard Larson comments upon the fact that surveys conducted by The British Promotional Merchandise Association (BPMA) prove the strength of promo gift advertising.
"There is a direct correlation between promotional product advertising and an improvement in brand recognition and increase in sales," writes Larson, "In addition to brand awareness and better sales, this form of advertising yields a better return on investment." Referring to a 2012 BMPA study of nearly 15,000 people who received free promotional products within the previous year, Larson unveils just how successful promo gift advertising can be.
66% of participants claimed they could recall the brand on the promotional product received withing the past 12 months. It's interesting to note just how long-lasting the impressions of promo gifts can be. Generally, television commercials come and go within 30 seconds. It's debatable just how impactful they are. Clearly, some are more memorable than others. But this statistic showcases the ability of promo products to have lasting impressions.
Because promo gifts are useful items, they do a whole lot more than simply advertise a brand. They provide extra value to their recipients. Naturally, they can be used over and over again. So when giving out a promotional gift, a business owner essentially ensures that the recipient will be reminded of his or her business on a regular basis. Considering the low-cost of promo gifts, the return on investment is excellent. Larson confirms this as well.
79% of participants would be likely to do business with the company who provided the promotional product again. This, of course, is what business owners want. It's one thing to impress a customer, but it's an entirely different thing to encourage that customer to return. Customer loyalty is a huge part of any company's success. And promo products have successfully encouraged customers to be loyal.
87% of participants kept a promotional item for longer than a year. Again, this speaks to the longevity of the promo gift's advertising power. Are there any commercials that play on television for longer than a year? And, if so, what functions do they perform for their viewers? Promo gifts not only stay with their recipients, but serve them well. And, as you can imagine, they help customers to favour the companies who give them out.
56% of participants said their impression of the company improved after receiving a branded item. As we've asked many times before, who doesn't like getting something for free? The mere gesture of a free gift is often enough to give a good impression of your business. Giving a little bit extra often has a big impact. And customers enjoy when businesses show them that their patronage is valued.
"The impact of these products on recipients is great," reports Larson, "They can recall the specific type of product received and also remember the brand name or name of the company for a long period of time after receiving it. In fact, over 94% of those who participated in the research study said that they do not forget the advertiser or the product advertised." Isn't it time you order some promotional products to advertise your business?
Contact Synergy Marketing by calling 1-877-748-9884 today!
Comments Off on British Study Unveils Success Of Promo Gift Advertising