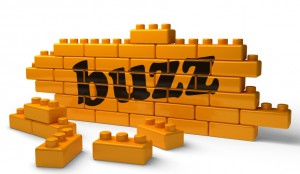 There are numerous ways to generate excitement for your business. Perhaps, you don't have the type of boisterous fan base that the Toronto Raptors have. But still, you have several opportunities to entice your target audience to become interested in what you have to offer. We're not just talking about run-of-the-mill advertising here. We're talking about inventive ideas that get people talking.
In yesterday's blog, we discussed following the leads of both the music and film industry. Firstly, you need a "hook" to get people thinking about your brand on a regular basis – much like popular songs. It's also advisable that you launch teasers to generate greater interest in your soon-to-be-released products – much like Hollywood films.
But what else can you do to build a bigger buzz for your brand? Here are three more ideas:
1. Start a countdown. Some of the most exciting events in our lifetimes are anticipated through countdowns. New Year's Day is the most obvious one that comes to mind. But consider those events that are advertised by how long you have to wait until they are launched. New television shows or professional sports seasons are often counted down in these ways. Why not place a countdown on your website to tease the launch of a new product?
"Countdowns serve two purposes: they act as a reminder for your audience and they build anticipation," explains Lauren Hooker on ElleAndCompanyDesign.com, "I can think of several brands and businesses whose countdown for their new website, product, or business venture kept me on the edge of my seat and encouraged me to tune in on the day and hour of the launch. You can start a countdown within your blog posts, in your blog sidebar, on your homepage, and/or across your social media accounts."
2. Establish wait lists for your products. Okay, wait a minute here. (See what we did there?) Isn't the concept of making people wait one to completely avoid? People hate waiting, don't they? Well, when you consider that when you make a product appear highly sought-after and very well-liked, making customers "wait" for it may not be all that bad an idea. On Forbes.com, Jayson DeMers explains further.
"Offering a wait list for your product or service can be risky, but it can also help contribute to a sense of anticipation and scarcity; both of which can generate huge buzz for your business," he describes, "Test out wait lists for new products, services and events. Offer 'limited' seating at webinars and live events. During busy times, put clients on a wait list for your services rather than telling them you'll get in touch when you have an opening."
3. Offer free giveaways. Now where have we heard this piece of advice before? Surely, the Synergy Marketing Blog hasn't missed any appropriate opportunities to remind its readers that offering customers something for free has long been a marketing strategy that works. "Giveaways are a great way to get your audience involved with your launch through shares and feedback," says Hooker.
At Synergy Marketing, we offer the best promo products in the business to serve as your company's free giveaways. To place your order for the promo gift of your choice, call Synergy Marketing at 1-877-748-9884 between 9am and 5pm EST or email us at info@gosynergygo.com! You can also sign up for our Insider E-Flyer Program HERE!
Comments Off on 3 More Ways To Build A Bigger Buzz For Your Brand