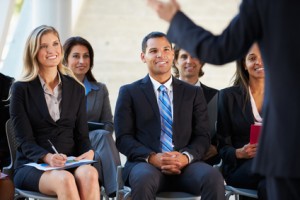 In yesterday's blog, we addressed a very important issue within the business world. And that would be the business meeting. All companies conduct them, right? But are they effective? Are they really getting employees on the same page? Are they moving companies forward in a way that is productive? According to Louise Balle of Chron.com, "Business professionals waste an estimated 31 hours a month at unproductive meetings."
So how can they go from being unproductive to productive? Balle lists a number of steps that she advises business owners to take to make the most out of their business meetings. Yesterday, we covered the first six steps on her list. Many of them highlight the need to stick to a schedule. In today's blog, we'll conclude our look at that list in hopes that it will assist you with conducting the best possible business meetings with your staff.
1. Follow your agenda closely. Speaking of sticking to a schedule, Balle insists that you don't veer off of the order of issues that you plan on discussing. Many business meetings falter by allowing for too much time to be devoted to one subject, forgetting to address numerous other important points. "Appoint a parliamentarian–sort of a neutral mediating party when discussing issues–to help you keep the meeting on track if necessary," she writes.
2. Prohibit chaos. This may be one of the harder tips to pull off. Balle reminds us that there are times when meetings become a little heated and emotional. It's clearly very important to prevent meeting participants from insulting others, interrupting those speaking or raising their voices to overpower other individuals. Meetings aren't meant to start fights. Those who are disruptive should be asked to leave.
3. Don't backtrack. Once you've completed a point, it's time to move on. Don't go back to that point. Instead, be sure to transition to the next item on the agenda. This entails being a pretty diligent moderator. "Moderate the meeting if necessary by giving each member the go-ahead to speak his mind on the issue. Ask each person to limit her point to two minutes or less," recommends Balle.
4. Leave time for questions. It can be argued that no meeting is productive without attaining feedback from its participants. It's important to know how your team members feel about each of the issues. Make sure that there is time at the end of each meeting for a short question and answer period. This way, you'll be able to clarify any points of confusion. You will also allow people to voice relevant points that can add to the proceedings.
5. End your meeting on a positive note. It's very important to inspire action with each meeting. And one of the best ways to do that is to have your team members leave the meeting with upbeat and positive mindsets. You may want to summarize what each member is required to do moving forward and offer some motivational words to encourage everyone to accomplish the goals outlined in the meeting.
6. Give out promo gifts. If you think that we just snuck that last tip in there, you'd be right! But it doesn't mean that it isn't relevant. Promo gifts are very often used to reward job performance. And acknowledging jobs well done publicly is a great way to motivate your team members to perform to the best of their abilities. Select promo gifts that you know your staff would like and use them to reward your top producers at each business meeting.
To get your hands on the perfect promo gift, call Synergy Marketing at 1-877-748-9884.
Comments Off on 6 More Tips On Conducting The Perfect Business Meeting