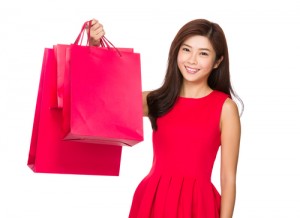 In yesterday's blog, we discussed the concept of getting customers to celebrate your business. As you already know, most customers place customer service in a higher regard than the actual products and services they purchase. Of course, they wish for what they buy to be well worth their prices. However, the majority of shoppers want to cherish their buying experiences. What are you doing to ensure that your customers enjoy theirs?
Here are four ways to make shoppers cherish their buying experiences:
1. Make sure you have a well-trained staff. Remember that customers always judge a business by the representatives they come into contact with. The old adage that "one bad apple spoils the bunch" is true when it comes to your company. Having a well-trained staff ensures that each of your employees is on board with practicing the same excellent customer service practices. This will help to keep all of your customers happy.
"It's important to make sure all of your employees, not just your customer service representatives, understand the way they should talk to, interact with, and problem solve for customers," insists Alyssa Gregory on About.com, "Provide employee training that gives your staff the tools they need to carry good customer service through the entire customer experience."
2. Be easily accessible. You'd be hard pressed to find a customer who actually enjoys waiting a long time for customer service. Make yourself easy to find. This gives customers great confidence that you can be depended on when they need you. It's understandable, of course, that you can't be available 24/7. So it's important to provide a source of help during the times when you can't physically do so yourself.
On ElegantThemes.com, Tom Ewer suggests that you create a help desk to keep customers happy. "Your customers will from time to time have unique situations that your FAQs don't address," he points out, "A help desk may be the right solution for you in this case. You can enable your customers to ask for help by getting the details of their problem and then having your team work with them to get the problem fixed."
3. Implement the feedback given to you by your customers. It's important to get feedback from your customers. But if you're not taking what they say, considering it, then putting their pieces of advice into practice, it's all a waste of time for everyone involved. Shoppers like to see that their opinions matter. And they will be greatly impressed if you make changes to your business based on the suggestions they've provided you.
"You need to do something with the feedback you receive from customers in order to make it useful in your customer service process," says Gregory, "Take time to regularly review feedback, identify areas for improvement, and make specific changes in your business. Good customer service often comes down to consistently checking in with your customers and making sure they are happy with not only the products and services you're selling, but also the process of purchasing, ordering, working with you, etc."
4. Give them free gifts! Synergy Marketing provides Canadian business owners with the best promotional products in the business. To place your order for the promo gift of your choice, call Synergy Marketing at 1-877-748-9884 between 9am and 5pm EST or email us at info@gosynergygo.com! You can also sign up for our Insider E-Flyer Program HERE!
Comments Off on 4 Ways To Make Shoppers Cherish Their Buying Experiences