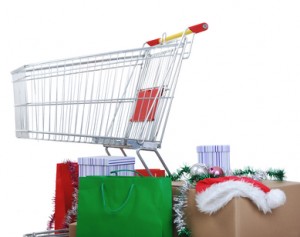 Well, there's still a couple of weeks left for us all to complete our holiday shopping. But, as a business owner, that doesn't mean that there's a whole lot of time left for you to promote your company's holiday deals. Promoting your business for the holidays is something that generally begins in November. We should know. We've been blogging about it since before Halloween! The question is, how much attention have you given your holiday marketing strategies?
Perhaps, the question is better asked by Wendy McCance on SearchingForTheHappiness.com when she asks "What are you doing to make sure you get your message out during the holiday season?" Getting your message out is what is bound to get more of your customers in – to your store, that is. "This is the most critical time of year to promote your business using social media," McCance insists.
But it isn't just your social media profiles that are bound to boost your…well, profile! There's a lot that you can offer your customers so that they are encouraged to finish their holiday shopping with you over your competitors. There are only a few weeks left in 2014, McCance reminds us. And with that, she offers up some tips on how to promote your business during the year's final weeks. Here are five great ideas.
1. Offer gift certificates, and special events on your social media platforms. In case you couldn't already tell, McCance is a big supporter of social media. And, as readers of the Synergy Marketing Blog are well aware, so are we! "Use Twitter or Facebook to pass out special holiday codes that can be used in store during certain days and times," she insists. Social networking is arguably the easiest and cheapest way to get the word out.
2. Put together a contest with a holiday theme. Contests are always exciting. They are great ways to drum up interest in your brand. "Mention it on Twitter, your Facebook page and your website," advises McCance. Not only will this work to grow your friends and followers, but it is likely to increase the traffic in your physical store location as well. People love getting things for free – as we often say. Contests are great ways to attract attention thanks to that fact.
3. Offer a buy one get one free promotion. Speaking of getting things for free, people enjoy getting good value for their money through the popular buy-one-get-one-free deal. Remember that shoppers are looking for discounts wherever they can find them, especially since they are doing more shopping this month than at any other time of year. Naturally, McCance recommends that you promote your special two-for-one offer on Twitter.
4. Have your staff put together a fun holiday video to show customers what a fun, personable business you have. YouTube cannot be forgotten when you're talking about the popularity of social media. People love viewing and commenting on photos. But they love viewing, sharing and commenting on videos even more. Filming a video that will shine a favourable light on your brand is simply a smart business choice.
5. Host a holiday Tweet chat with your customers. Hashtags are all the rage these days. Go ahead and create a #chattime or #timetotalk hashtag (or one of your own choosing) to encourage people to speak with you via Twitter at a set out time. Offer those who converse with you, during your Tweet chat, special deals and discounts during the holiday shopping season. It's bound to get you some new customers.
Be sure to check back for tomorrow's blog as we continue to look at McCance's ideas for boosting your sales this holiday shopping season. And since people love getting things for free so much, it would be a good idea to get your hands on some great promotional gifts from Synergy Marketing. To place your order, give us a call at 1-877-748-9884!
Comments Off on 5 Ways To Promote Your Brand In 2014's Final Weeks