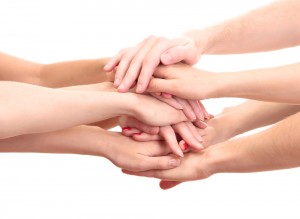 In yesterday's blog, we welcomed the new spring season by offering up some ideas for how you can get your business to spring forward. It's a great time of year to launch new marketing campaigns, but it's important to never forget about those tried-and-true techniques that will keep your current customers interested in what you have to offer. So what are you doing to maintain the support of your client base?
Here are four methods.
1. Make use of content marketing and your social media pages. This is a tip that we're not likely to stop giving any time soon. It's important to acknowledge the power of the internet and its ability to help you take your business to the next level. Through your social media accounts, you can directly connect to members of your customer base on a regular basis and at no charge to you. This helps to build customer relationships in ways that were once impossible!
On his website, sales expert, Brian Tracy highly recommends this practice. "There are so many more ways to get your product to your customers than ever before," he informs us, "What's the best part? They're all free. You can use social media such as Facebook, Twitter, and your blog to your advantage. By building relationships with your customers through these channels you can access more people than ever."
2. Don't lose touch with your supporters. It's important to keep your client base in the know. Following up via phone or email after a service has been performed is a great way to show that your customers are important to you. Furthermore, it showcases your willingness to make their lives easier. The act of keeping in touch is, most often, well received by customers as so few business owners tend to consider its impact.
On BusinessKnowHow.com, Bob Leduc insists that the act of following up is bound to result in more sales. "Most prospective customers will not buy the first time they see or hear about your product or service," he reminds us, "You're losing a lot of sales if you do not persistently follow up with those prospects. Your follow up procedure can be as simple as periodically contacting them with a new offer. Or it can be more complex like distributing a newsletter or providing updated product information."
3. Offer competitive prices. Being "cheap" isn't necessarily an ideal selling point. You never want to give off the impression that your products are of low quality. However, it's important to remain competitive in your marketplace by not overpricing your goods. Researching your industry and discovering the price ranges of your competitors is a great ways to gauge how you should be pricing your items.
"Do market research on your competitors to determine the right price," recommends Tracy, "If you have a high-priced product, be prepared to over-deliver quality to your customers. Price can be determined by "perceived value" of your product. If you can make your product seem superior to your competitors, you can charge a higher price."
4. Don't shy away from offering freebies. "Your ideal customer is far more likely to buy your product if you give them a preview to try out," insists Tracy, "Shoot a short video of your product in action, give them a free piece of really great content and get your customers excited for what's next." At Synergy Marketing, we couldn't agree more. We've long believed in the art of giving out free gifts to boost the reputation of your business.
Giving out promo gifts with your company logo on them is a great way to use the "freebie" to your advantage. To place your order for the promo gift of your choice, call Synergy Marketing at 1-877-748-9884 between 9am and 5pm EST or email us at info@gosynergygo.com! You can also sign up for our Insider E-Flyer Program HERE!
Comments Off on 4 Methods Of Maintaining The Support Of Your Client Base