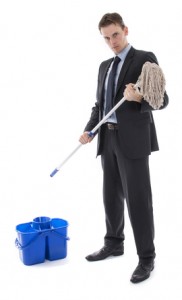 Rebuilding your brand after experiencing a fall of some kind requires a number of important steps. In yesterday's blog, we outlined some of those steps, noting that, like sports teams, we often need to make changes to our businesses in order to enjoy future success. However, the new steps that you take will depend heavily on the type of "fall" that your business has experienced. Many fans of the Toronto Raptors feel that the team simply messed up. Have you?
On RepCapitalMedia.com, Mary Ellen Slayter reveals that when you mess up, it doesn't necessarily mean the end of your business. Sure, it may lead to the end of some of your business relationships, but there are a number of important steps that can be taken to rebuild your brand after things have gone really badly. With the help of several business professionals, she reveals these steps.
Here are six ways to fix your mess ups:
1. Forget about it. In other words, don't dwell on the past. Worrying about the mistake you made isn't going to help for things to improve. Instead of dwelling on it, take action. Matthew Ackerson of Saber Blast says that you should "go start something new and ignore the haters. Just start somewhere. Start a new company, or a new project. You're your own worst enemy in these type of situations."
2. Own up to it. Okay, so you made a big mistake. While you shouldn't dwell on it, you shouldn't avoid taking the blame either. The best way to bounce back is to be honest about your mess up, says Amanda Aitken of The Girl's Guide to Graphic Design. "Be an open book with your customers, clients and fans, and send out an email or other update about what happened and how the misstep was made," she advises.
3. Don't hide from it. Part of owning up to your mistake is continually showing up to remedy it. Shying away from your responsibilities won't do you any favours with respect to your public perception. Although Lea Woodward of Inspiring Ventures understands that "it's natural to want to hide away", she recommends that you "do the opposite and keep showing up. Be better, be bigger, be bolder."
4. Take advantage of it. It's all about your mindset. If you look at your mess up as a learning opportunity, you may actually see the occurrence as a benefit. If it helps for your company to improve, it may just have been a blessing in disguise. Michael Tolkin of Merchant Exchange believes that a mistake can provide "an ideal opportunity to showcase your other strengths." He insists that you "acknowledge the mistake, but focus on how you'll take action to remedy it going forward."
5. Make up for it. Speaking of mess ups providing opportunities, your ability to say "sorry" and willingness to make things better will really go a long way. Sometimes, the best way to satisfy customers is to show them what you're willing to do when you mess something up. "If you are truly at fault, it is imperative that you admit the mistake immediately in order not to hurt your long-term reputation," insists Patrick Curtis of WallStreetOasis.com.
6. Learn to avoid it. Now that you've messed up and learned how to bounce back, it's important that you don't make the same mistake again. A true understanding of your faults is found in knowing how to eliminate them from reoccurring. "Just be honest and take ownership for your part in the mistake," says Pete Chatmon of Double7 Images. That way, you will ensure that you won't mess up in the same way again.
By the way, don't make the mistake of not ordering any promotional products from Synergy Marketing to advertise your business. Call us today at 1-877-748-9884!
Comments Off on 6 Ways To Fix Your Mess Ups