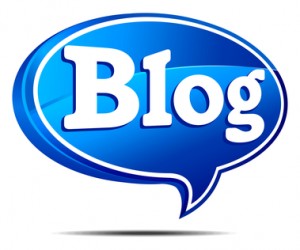 It doesn't matter how many fans you have of your business, it's not likely that anyone is going to care about it more than you. You started it from the ground up. You worked tirelessly to make it what it is today. So there's no one who knows more about it than you. Who better to write about your business than you? What's that? You're not a writer? Well, there are ways to work around that which we'll get to shortly.
However, the point must be made that your business should be written about. Blogs are all the rage these days. That's why, for the past few years, we have been maintaining our very own Synergy Marketing Blog. Our daily posts provide loads of information about how to promote your business and often highlight the many benefits of using promotional products to advertise your company.
Writing is a great outlet and also an excellent way to personally connect with members of your client base. On MyCreativeArtsConsulting.com, Nancy Babcock writes that there are some specific steps that you should take when writing about your business. Taking these steps will help to ensure that the company you created is recognized by a much wider audience. Here are five steps to take you in the right direction.
1. Create A Schedule (And Stick To It). At Synergy Marketing, we enjoy posting a new blog each business day of the week. We also post links to our blogs on our Facebook and Twitter profiles daily. This has work wonders in attracting new friends and followers. Babcock suggests that you pick a schedule for your articles so that you're able to stay consistent and stick to deadlines that keep your writing on track.
2. Choose a Niche Writing Area. Blogs are excellent ways to display your expertise. But they also work best when they can provide services to their readers. This is why, at Synergy Marketing, we enjoy posting "advice columns" that list several tips on how to better promote small businesses. Our blogs speak to a specific audience and remain in keeping with our business model to help Canadian businesses advertise themselves with promo gifts.
3. Create A Content Theme. "Having the theme helps tremendously when you are researching your article," writes Babcock, "Make the theme as wide open as possible." Various themes that we have covered in recent weeks include promotional ideas for the fall, back-to-school advertising ideas and concepts for promoting your brand around Halloween. Having broad themes so that you can build your articles around them is always helpful, notes Babcock.
4. Create A Comfortable Writing Style. Generally, we like to keep it light, here at Synergy Marketing. Our blogs are written in a very friendly voice, almost as if we were having a conversation with our readers. We feel that this warm, yet informative approach works for our brand. Pick a style that works for you. Babcock admits that she takes a lot of time to do research before composing articles. Other writers whip up posts within minutes. Find your style.
5. Hire A Writer. If all else fails, and writing is simply not for you, there are professional bloggers out there than can do the job for you. You may be surprised to find out just how affordable they are and how much their blogs can help to bring more awareness about your brand. We recommend the Bloggers For Hire at MeloTel. They've done a wonderful job for us. And they'll do one for you too!
Comments Off on 5 Steps To Advertising Your Brand Through Writing