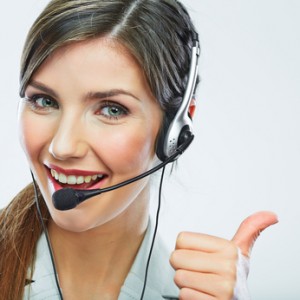 Providing your customers with products and services is what your company does. But, it is not what your company should be known for. Smart business owners know that their companies' reputations have so much more to do with the experiences they give their customers than what they sell. As well, most companies are judged by the ways in which they handle customer complaints.
Let's be real. We all know that nobody's perfect. And, as a result, no company is perfect. Mistakes are bound to be made and customers are bound to get upset. But how you handle those situations can make all the difference in the world. Sometimes, going over and above the call of duty is required to satisfy a disgruntled customer. Remember, it's your job to not just service customers. It's your job to make them happy!
"Are you doing everything you can to make sure your customers have a positive experience and leave happy?" asks professional speaker and trainer, Anne M. Obarski on BusinessKnowHow.com. She insists that business owners follow a particular set of rules or principles in order to ensure that they are truly in the 'making people happy business'. She reiterates our point that customer happiness isn't necessarily determined by products and services.
Obarksi believes that making customers happy all starts with good communication. "Hearing and listening are two different thing," she insists, "I believe most businesses make customers cranky by not 'listening' to what they want. Here is an example. I found a new hairstylist and told her, 'I like my hair styled with some soft curls, definitely not straight.' When she finished doing my hair it was poker straight and she said, 'Is that good enough to get you out the door'?"
Needless to say, Obarski was not impressed. Not only was the hairdresser apparently uninterested in making her customer happy, but she certainly didn't appear to care whether or not her customer would ever come back. "Her lack of paying attention will cause me to try another hairstylist the next time!" reports Obarski, "Customers get cranky when you don't pay attention and do your best at satisfying their request."
Obarski writes that it's important to take responsibility if you want to make customers happy. "Take responsibility for getting the job done right," she insists, "Most of us are tired of businesses making excuses. 'My computer is down; That's not my department; I just started here; I don't know how to do that' are all 'lines' that we hear employees say that make us cranky. It is the responsibility of every company to hire and train and equip employees with the tools and answers they need to satisfy their customers."
Obarski goes on to note the importance of being on top of employee performance. The people you hire to represent your brand need to be aware of what is necessary to present your company in the most favourable light possible. "Do you know how your employees represent your company?" she asks, "I form an opinion about a big corporation based on the work performance of one of their hourly employees."
At Synergy Marketing, it's important to us that we make our customers happy. Give us a call at 1-877-748-9884 to learn more about how our promotional products can help to advertise your company and grow its reputation. We'll do the best we can to make you happy!
Comments Off on The Importance Of Making Your Customers Happy