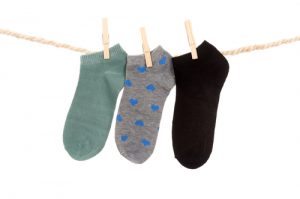 In yesterday's blog, we revisited the topic of impressing your clients. But we're not just talking about the clients that you're used to doing business with. Making strong first impressions on your new clients can do wonders for your helping you to establish yourself as a top-choice professional in your industry. When you meet your new clients, it's important to find ways to knock their socks off!
Here are three more ways to do that:
1. Be organized. Okay, so your new client has given you the opportunity to prove yourself. Don't take it for granted. Just because you've secured a new client, it doesn't mean that he/she will remain loyal. It's up to you to constantly work towards making good impressions. And a great way to make a good impression early is to be completely organized and on top of everything that needs to be handled right away.
On TheFreelanceHustle.com, Kayli admits that this is "easier said than done when you're juggling multiple clients and deadlines. That is why you need to have the right systems and processes in place. Workflows and reminders are a life saver for staying on top of your projects and keeping your clients in the loop on your progress. If you can appear to be organized and professional your clients are going to have more faith in you/think you're a miracle worker."
2. Be as inquisitive as they are. When working with new clients, you're bound to get asked a number of questions. The more questions you get asked, the better. This is because the curiosity of your new customer proves that he/she is interested. Be sure to do the same. Ask questions that will help you to get to know your customer better. The knowledge you attain will go a long way in being able to help you meet your customer's need for many years down the road.
On SkillCrush.com, Randle Browning highlights the fact that it's important to ask a lot of questions at your first meetings with new clients. "First meetings with clients can feel like auditions (and they kind of are)," she describes, "To keep the meeting from feeling like a trial, ask the client a lot of questions." She goes on to note that you should make sure to prepare your questions well in advance of the first meeting.
3. Offer a welcome package. Kayli explains that a welcome package helps your new clients get better assimilated with your business. "When you start working with a new client, they are likely going to have a lot of questions," she reiterates, "Put them at ease, and save yourself heaps of time, by creating a welcome package for all of your new clients. You can tell them about your office hours, your process, any systems you use, and anything else they need to be aware of to get started. It's also a great time to send a checklist of things you will need from them."
If you're really looking to blow the socks off of your new clients, you'll want to do something that most business owners won't. Sending welcome packages along with messages of gratitude for your new working relationship will do the trick. Your packages should also include a number of your company's fantastic promotional gifts which always come in handy. They'll serve as great reminders of how awesome your company is!
To place your order for the promo gift of your choice, call Synergy Marketing at 1-877-748-9884 between 9am and 5pm EST or email us at info@gosynergygo.com! You can also sign up for our Insider E-Flyer Program HERE!
Comments Off on 3 More Ways To Knock The Socks Off Of Your New Clients