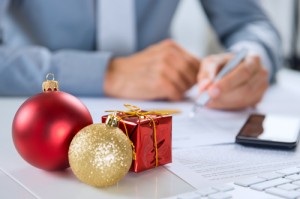 In yesterday's blog, we touched upon the subject of office decorations during the holiday season. It's a good idea, no doubt. Boosting employee morale can easily be done when your staff members are able to come to work each day to a vibrantly-decorated place of business. However, as we pointed out yesterday, it's important to be mindful of different traditions. It's also important to ensure the safety of your staff when decorating your office.
On Care2.com, Linda Merrill writes that holiday decorations in the office can cause problems. She cites a 2006 International Facilities Management Association (IFMA) survey of employees that found that "25 percent reported problems related to the decorations and 85 percent of the complaints led to policy changes." So how can you decorate your office space in a way that pleases everybody?
Here are three ways:
1. Allow employees freedom with their personal spaces. This may not apply to all businesses, but for those where employees have their own offices or cubicles, feel free to allow them to decorate as they please. As long as the workspace is not impeded by the decorations and that a "business as usual" environment is maintained, it can be great for employee morale if they are allowed their own freedom of expression.
"Consensus seems to be that for employees who wish to decorate their personal spaces they do so on their own time, such as before or after work or during a lunch break and it should not impose on their neighbours in any way," reports Merrill, "Truly religious symbols such as a nativity scene should be kept small and unobtrusive, for the owner only. On the other hand, more common decorations such as garlands are more generally appropriate for all because they represent a more commercialized aspect of the holiday."
2. Start a food drive. This is a hugely important holiday tradition that should garner the involvement of all employees, no matter what traditions they acknowledge. Having a station set up for the collection of non-perishable foods in your office is arguably the best possible "decoration" you can set up. AllBusiness.com strongly recommends that you share the "true spirit" of the season in this way.
"The holiday season is not only a time to celebrate, it is also a time to think of those less fortunate than ourselves," says the site, "Bring the spirit of giving into your office by organizing a company food drive. Ask employees to bring in canned goods and other non-perishable food items to donate to a local shelter or other aid organization. Display the food items in a corner of the office where the growing pile will inspire employees to bring in their own contributions."
3. Use your company's promotional gifts. Who says that promo gifts can't be used as decorations? The holiday season is a great time of year to help boost company pride. Place your promo gifts throughout the office and offer them as prizes to employees who are the most productive. Friendly competition never hurts. And when your staff members are given more opportunities to earn bonuses, it helps to drive competition.
At Synergy Marketing, we have a wide array of promo gifts to offer our customers. Water bottles, pens, flashlights, wine stoppers, key chains, knives, tools and so much more are available now! We even have a fantastic array of holiday gifts including our very popular Christmas Card and CD combo! Don't hesitate to give us a call to order the promo gift of your choice today. Simply dial 1-877-748-9884!
Comments Off on 3 Ways To Please Everybody With Your Decorations