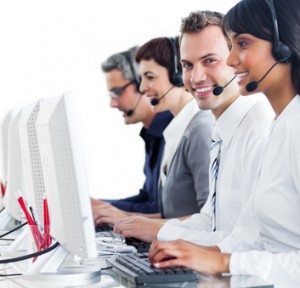 All week long, we have been blogging about the various changes that business owners can make to their companies in order to improve customer relations. But there's a very important step to take in growing a business that hasn't been mentioned. And that would be improving your relationships with your employees. It's important to remember that without your staff members, your company could not function.
Boosting employee morale should be a big part of your daily routine. The happier your employees are, the more likely they are to be productive. This has actually been proven in many places of business across the world. "Employee attitudes typically reflect the moral of the company," writes April Shetrone on Inc.com, "In areas of customer service and sales, happy employees are extremely important because they represent the company to the public." With that, she lists a number of ways to improve employee satisfaction. Here are six.
1. Give your staff members more control. Happy employees are those who aren't made to feel as if they are just numbers or cogs in a machine. They are people. They have feelings. And they need to feel as if they matter. You can do that by offering them "more control over their schedules, environment, and/or work habits," says Shetrone, "For instance, employers could offer alternative work schedules such as flextime or telecommuting."
2. Ease the stress of commuting. One of the hardest things about working every day is getting to work every day. Is there anything you can do to alleviate the stress that comes with commuting? "Employers could stagger work times to avoid heavy traffic," suggests Shetrone, "Review beginning and ending times and determine if the specific times or the amount of people arriving at each time can be adjusted."
3. Free up more time. One of the biggest stressors for an employee is meeting deadlines. Sure, it should be expected that deadlines are met. But are you offering them enough time to get the job done? Shetrone recommends that you free up more time for your staff members by shortening meetings. Cut to the chase and minimize the "chit chat" so that your employees can go to lunch or go home on time. Using time wisely is a great way to help employees do their jobs.
4. Encourage social interaction. Some places of business frown upon fraternizing. But does this always help things around the office? Co-workers are bound to become friends. They see each other nearly every day. As a result, "employers should find ways to encourage social relations," says Shetrone, "Consider an office arrangement that fosters communication. Arrange workstations so employees can see each other and talk."
5. Promote healthy living. A healthy employee is, most often, a happy employee. Does your place of work offer options that promote health? "Poor health is not only damaging to employees, it is detrimental to businesses," Shetrone reveals. She suggests that you educate your employees on health topics. Encourage exercising and healthy eating. Allow for short breaks that allow employees to get up, walk around and stretch as well as snack on healthy options offered by your cafeteria.
6. Surprise them. "Surprises add spark to all areas of life, including the workplace," Shetrone writes, "Employers should look for small ways to surprise employees. For instance, you can occasionally bring in a special treat such as coffee or baked goods. Small gestures show employees that you appreciate their time. Another idea is to host an office party for a quirky holiday. Employers could even allow employees to create a holiday."
You may even want to surprise your employees with free promotional gifts. At Synergy Marketing, our many years of experience have proven that this works wonders. Order yours today by calling us at 1-877-748-9884!
Comments Off on 6 Ways To Boost Employee Satisfaction