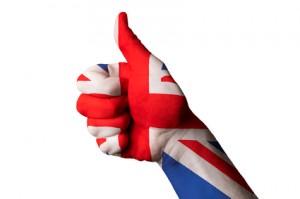 The power of promotional products should never be understated. And perhaps, this is why we state it – over and over again! For many years, Synergy Marketing has proven that when Canadian business owners choose to place the logos of their companies on useful and effective promo gifts, their companies enjoy greater success. An increase in customers, happier clients, numerous referrals and general better impressions of the brands are all beneficial results.
But, promo gifts don't just make business owners successful in Canada. They have the ability to work wonders worldwide! Our friends over in the United Kingdom seem to recognize the power of promo gifts and love them about as much as we do. At least, this is what seems to be confirmed by the British Promotional Merchandise Association. On Pellacraft.com, it is revealed that a survey was completed finding a number of benefits of promo gifts.
"Promotional products invoke loyalty in over three times as many recipients as the effects of the other advertising mediums like print, web, direct mail or TV," says the website, "Using promotional products as part of your marketing will mean that your company gets the recipient's loyalty and of course their custom." The site goes on to list some very telling statistics about the power of promo gifts in Great Britain.
81% of the people asked said they expected to get promotional items from exhibitions like trade fairs etc. This is a very important aspect of the promotional gift. Trade shows, conferences and other events that give business owners the opportunities to meet fellow professionals are the absolute perfect places to hand out your promo gifts. Evidently, people now expect to get their hands on them at these events.
"They are a great way to draw in more customers and by having promotional items to give out people are more inclined to remember your company after the exhibition is over," says Pellacraft.com, "With the economic climate as it currently is, now is the best time to promote your company using promotional items." If you're attending a trade show any time soon, it's imperative you bring some promotional products along with you.
58.9% of people are more likely to keep free branded gifts during this time. This is another major benefit to the promo gift over the business card. The key is to be memorable and to make quite the good impression on those you meet. In order to encourage others to contact you after they have met you, it's important to give them a reason to keep you in mind. Because promo gifts are so useful, they have the ability to stay with their recipients for years!
Business cards, on the other hand, are too often thrown away, lost or placed into a "deck" of other business cards only to be forgotten. Promo gifts leave lasting impressions. This is why it's so important to invest in these great items. They are among the most cost-effective ways to grow your business. And their staying power is undeniable. Not to mention, they're easier than you think to get your hands on!
94% of us remember the advertiser who gave us a promotional item after we have had it for six months. Evidently, if you want to be remembered, a promo gift will do the trick. And speaking of getting your hands on them, Synergy Marketing provides the best promo products in the business! Ordering yours is as simple as giving us a call at 1-877-748-9884 today. We look forward to helping you join Great Britain and the rest of the world in reaping their benefits!
Comments Off on Our Friends In Great Britain Love Promo Gifts Too!