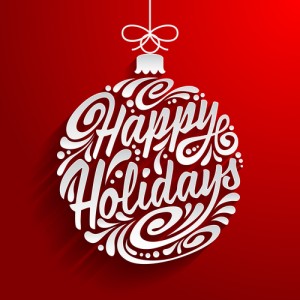 On behalf of the entire team, here at Synergy Marketing, we would like to wish all of you a very Merry Christmas, Happy Hanukkah and the very best for the new year! Each and every year, at this time, in our last blog post before the holidays officially kick off, we also give thanks to the many customers who have helped for Synergy Marketing to grow over the past year. We'd like to take this opportunity to thank them once again!
It means a lot to us that you would entrust our promotional products to help your company grow. For many years, we have been championing the use of promo gifts to boost small Canadian businesses because we know they work. Not only are they a lot more cost-effective than traditional modes of advertising, but promo gifts help to develop personal bonds between business owners and their customers.
In 2016, we hope to enjoy a continued growth of our relationships with our customers and also an ongoing ability to claim that we are helping small businesses to grow all across this great country of ours. One thing is for sure – the power of the promo gift will continue well into the new year and beyond! If you have not yet taken advantage of this tried-and-true promotional strategy, we strongly encourage you to make it part of your New Year's Resolutions.
Here are just a couple of suggestions for you to consider in 2016:
USB Car Chargers. In 2016, one trend that is sure to continue is the frequent use of the smartphone. As a result, people will always need places to charge their phones. The thing is, people regularly forget their chargers at home. Our new USB Car Chargers are excellent gifts for just about everyone who has a smartphone – and that's just about everyone! At only $4.50 each, they make very affordable ways to advertise your brand name.
Wrap Around Earmuffs. These promo gifts not only make for the perfect wintertime advertisements, but they are arguably the best kind of promo gift you can hand out. Why? When your customers wear these earmuffs, they become walking billboards for your brand. Wherever they go wearing them this winter, people will know of your company. Not to mention, they're awesome!
They are adjustable click-to-fit earmuffs that are made with soft fleece fabric. They also happen to be water resistant and seam sealed so that moisture and wind is kept out. As well, they can be folded up for easy storage. The price includes the printing of your company logo on both the left and right sides of the earmuffs. At only $19.95 each, the Wrap Around Earmuffs make the ideal new year hand out!
The Synergy Marketing offices will only be open for a short time today and then we close until the new year. Please feel free to give us a quick call at 1-877-748-9884 to discuss the promotional gifts that we can get to you in the new year to help make it your best one yet. Our office re-opens bright and early on the morning of January 4th, 2016. Until then, we hope you have a fantastic holiday season!
Comments Off on Wishing You The Happiest Of Holidays!