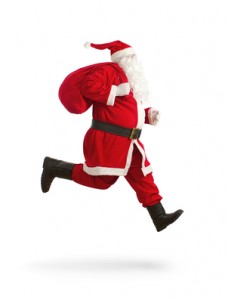 When the holiday season arrives, there is often a lot of excitement in the air. Naturally, people get excited about Christmas and the other holiday celebrations that come with the end of each year. And naturally, the shopping malls are busier than ever with shoppers looking for gifts for their loved ones. As a business owner, there are many new opportunities to promote your business, as the holiday season is the busiest shopping season all year.
In yesterday's blog, we touched upon the power of email marketing and how sending out newsletters can help to boost business throughout the holiday season. Constant Contact is known for its great ability to help business owners to construct email newsletters. Email marketing can be big factor in the success of the modern day entrepreneur. However, just like Synergy Marketing, Constant Contact is also known for its informative blogs.
On ConstantContact.com, Jenny Travis writes that "for many small businesses, the holiday season really is the 'most wonderful time of the year.' (But) with so much going on, the last thing you want is to have your marketing responsibilities slow you down." She goes on to list a number of ways that business owners can make sure that things "run smoothly throughout the holiday season". Here are five great tips.
1. Make a calendar. In order to stay organized, you'll have to plan your strategy in advance. With December already here, Christmas will be here before you know it. Travis recommends that you use this month to remind people about various last minute gift ideas that you could help them with. "Having a calendar will allow you to plan those messages ahead of time, and make sure you're reaching the right people, with the right message, at the right time," she writes.
2. Schedule your social posts. Look into Hootsuite.com. It provides an excellent way to set up your tweets and other social media posts in advance. That way, you won't have to worry about physically sending out messages during your busy work days. As Travis informs, "to schedule a post, type it in the composition area, select the accounts you want to post to, and then set your time and date in the calendar."
3. Draft your emails. You can do the exact same thing for emails, Travis points out. As mentioned in yesterday's blog, email newsletters are great ways to keep your customer base informed about your various products, services, special deals and discounts all throughout the holiday season. She recommends, however, that you "create your newsletters and announcements ahead of time and set them up to go out when appropriate."
4. Go mobile. Don't forget that the majority of online users tend to use their smartphones throughout the day to browse the internet. Travis reminds us that "each of the top social networks offer mobile apps that can be used to post, monitor your activity, and interact with fans and followers. With an app like Instagram, you can also create engaging visual content and share it across your different social channels."
5. Hand out your promotional products. Although this tip didn't make Travis' list, it always makes ours! Our promo gifts have been impressing customers for years. And since it is the season to be giving, there is arguably no better time of year than now to give out your practical and handy gifts bearing your company name and logo to the many new customers who will be visiting your store. To place your order, call Synergy Marketing at 1-877-748-9884 today!
Comments Off on 5 Ways To Make Things Run Smoothly This Holiday Season