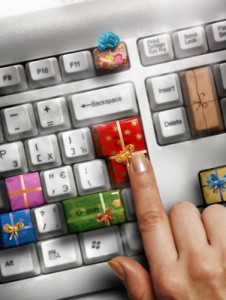 Halloween is tomorrow! And you know what that means, right? The day after will be Christmas! Well, not exactly. But as business owners all across Canada are well aware, the holiday season practically starts once November kicks off. It's a two-month shopping extravaganza that is widely known as the busiest shopping season of the year – by far. So that means business is definitely about to pick up!
In yesterday's blog, we began to look at ways that you could promote your business for the holiday season. With help from Kabbage.com, we began going down a list of things that entrepreneurs could do to boost the levels of excitement surrounding their brands. Among those ideas was using social media to build awareness as well as giving out free treats to visiting customers. In today's blog, we'll continue our look at that list. Here are six more ideas.
1. Take business clients out to lunch. There are few gifts better than a free meal. And, in some cases, it's your best gift for impressing your most important clients. According to Kabbage.com, taking clients to a holiday lunch will help to add that personal touch to your relationship. Your gesture will not only help you to get to know them better, but it will be a sign of how much they mean to your business. This is bound to secure their loyalty.
2. Get involved in a food or toy drive. It's always important to remember that the holiday season is the season of giving. Getting involved with charities that offer food or unwrapped toys to those in need is a great way to represent your business. "Prominently display a donation station at your store," suggests the website, "It'll get people in your door that might not have come by otherwise and will show that your brand is community minded."
3. Hire a graphic designer to put a holiday spin on your logo for the season. This is always a cool idea. It's important to have your brand continually represented as one that is "up with the times" and "on the cutting edge". When you update your logo on your website, for example, it shows online visitors that you are keeping things fresh and that celebrating the season is welcomed at your store.
4. Extend your hours. Let's face it. The objective here is to make more money, right? One way to do that is to stay open longer. Most shopping malls are no strangers to holiday hours. You may want to take part in the practice yourself. As Kabbage.com reminds us, "shoppers are out longer and later trying to squeeze in every last gift. Do them a favour and stay open later. You won't regret it."
5. Organize a carolling group. Don't fancy yourself as much of a singer? Not a problem. Christmas carolling involves a group of people who will adequately drown out your voice! In all seriousness, carolling is a joyous gesture that is bound to put smiles on faces and make your business look good. "Include employees, customers, friends, and family, and offer your store up for a pre-carolling shopping session beforehand," recommends the website.
6. Run holiday email campaigns. Using email to promote your business is a great idea no matter what time of year it is. Creating and growing an emailing list should actually be part of your regular activities. However, according to Kabbage.com, "email is a great way to put your products and services right in front of customers where they might not otherwise look for themselves, especially at a time when they're ready and raring to spend."
And don't forget to get your hands on some great promotional gifts. The holiday season is arguably the best time to give them out. Call Synergy Marketing at 1-877-748-9884 today!
Comments Off on 6 More Steps To Building Buzz This Holiday Season