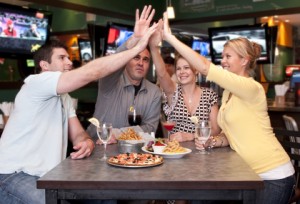 Every holiday season brings about numerous reasons to celebrate. Of course, this holiday season is no different. And, as a result, many businesses are enjoying the benefits that come with their customers wanting to celebrate the holidays. Restaurant owners are especially aware of this. Between the various Christmas parties and other get-togethers that are commonplace during this time of year, people need venues to partake in the festivities.
Restaurants are the obvious go-to choices for such events as they are able to cater to many people at a time, provide food and drink and festive atmospheres. If you're a restaurant owner, you're certainly in the money right now. Or are you? Not all restaurant owners can take for granted that business automatically picks up in December. It's up to them to come up with ways to promote their restaurants during the busy holiday season.
Here are three:
1. Cater to takeout customers. Not every customer is looking to use your restaurant as a location for a holiday party. Many of them simply want to satisfy the hungry bellies of their loved ones at home. As a result, your restaurant should make clear to its customers that takeout is available. It's a great way to drive up sales and ensure that your customers keep coming back when the holidays are over.
Buzztime.com certainly recommends this. "With shorter days, long work weeks and the challenges that cold weather brings, many hungry consumers opt for the comfort and convenience of takeout," says the website, "Cater to them by offering curbside takeout service or home delivery. You may also consider offering customers the ability to place their orders and pay for the bill right from your website or Facebook page."
2. Offer seasonal dishes. People seem to love meals that are associated with the holidays. Even if you add a little something different to the dishes you already serve, giving them that "holiday flair" will give your customers more reasons to order them. On RewardsNetwork.com, Linda Hays reveals that "59 percent of consumers say they're more likely to purchase an item on a restaurant menu if it's described as 'seasonal'."
"When your business model includes seasonal menu updates, marketing your restaurant and boosting your brand awareness becomes much more straightforward," she informs us, "Build up anticipation for your new menu launch with a series of teasers posted across all your social media platforms. Then, when you make the big release announcement, include links to and pictures of dishes from the new menu with every post."
3. Cater to busy holiday shoppers. Remember that people are shopping like crazy right now. And that means they're working up quite the appetites. This is especially true during lunch hours when people are taking breaks from work to quickly shop and eat. Give such customers incentives to visit your establishment over the others. This will require a marketing campaign that advertises your special holiday deals.
"Give your customers every reason to dine at your restaurant during the holiday season," insists Buzztime.com, "For instance, offer holiday lunch specials that appeal to busy holiday shoppers on the go, and remember to make the most out of your banquet space for large groups or company parties." Be sure to check back for tomorrow's blog as we continue to explore ideas for how you can boost business at your restaurant this holiday season!
Comments Off on 3 Ways To Promote Your Restaurant This Holiday Season