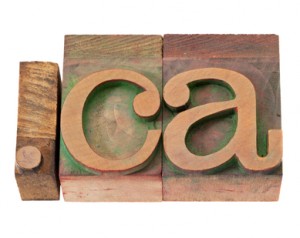 You may have noticed that the Synergy Marketing website has gone through a bit of change recently. Yes, it's a small change. Perhaps, so small you haven't even noticed it. But, in the scheme of things, this change is actually making quite a big statement! Our website has changed from a dot-com to a dot-ca. And you may be wondering what the big deal is about such a change.
As Brian Jackson writes on ItBusiness.ca, a dot-ca website is intrinsically Canadian. He explains that "since its birth in 1987, the dot-ca domain has clawed its way to the 17th largest domain type on the Web." He went on to discuss how the Canadian Internet Registration Authority (CIRA) is heavily promoting to Canadian business owners the need to have dot-ca web addresses to boost their market share in Canada.
"I think Canadians like to do business with Canadians," says CIRA president, Byron Holland, "The likelihood of people who are behind dot-cas doing nefarious things is a lot less so than others." Referring to security measures that one must go through in order to register a dot-ca web address, Holland notes that having such a website lends credibility to any Canadian business.
As well, Canadians already seem to feel an affinity for dot-ca websites. According to a 2005 Statistics Canada survey, three quarters of Canadians prefer to shop on these Canadian-based sites. Jackson writes that "of every $100 spent online by Canadians, $63 was spent with Canadian vendors. That's a healthy slice of a $5 billion pie that Canadian consumers spent online in 2005."
A dot-com website is generally considered more popular, but is tied mainly into American entities, Jackson also points out. As a result, there are ample opportunities for Canadian business owners to "scoop up" dot-ca domain names. And they are rapidly growing in popularity! At Synergy Marketing, we're certainly hoping to expand our reach throughout Canada with our new domain name.
After all, servicing Canadian business owners is what we do. We're very proud to be a Canadian brand and even prouder to be helping companies all across Canada grow their brands. And as the CIRA website points out, "a .CA domain name makes you or your company instantly recognizable as Canadian to Internet users around the world." The site also lists a number of other benefits to choosing such a domain name.
It's important to Canadian consumers, says CIRA. "89 per cent of Canadian Internet users think it is important for Canadians to have a .CA domain name," the site reads. Canadian shoppers tend to prefer shopping Canadian, as well as doing their banking, getting their news and consuming entertainment through homegrown websites. According to CIRA, "a .CA domain name is the Canadian flag on your digital backpack. The respect our country enjoys internationally is reflected in your .CA domain name."
Add that to the fact that "Canadians live online", and you realize that to be successful in Canada, you practically need to wave the Canadian flag through your domain name. Well, Synergy Marketing now proudly boasts a dot-ca domain name. You can now log on to TheBestPromoProducts.ca for all of your promotional product needs. But, don't forget that you can always call us up at 1-877-748-9884 to order the gifts of your choice.
Comments Off on Synergy Marketing Goes The Dot-ca Way!