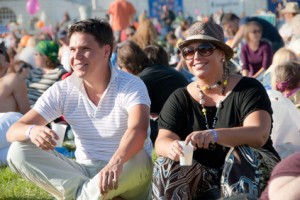 Is there any time of year that is more fun than the summertime? In the City of Toronto this past weekend, there were so many different festivals taking place, that it was hard to not enjoy yourself! The great weather only added to the excitement as events such as the Toronto Caribbean Carnival and Scarborough Ribfest, among others, brought out hundreds of thousands of people to enjoy the sights, sounds and smells.
We're hoping that the rest of Canada has had as much fun as Toronto has in recent days. The party only continues as today's Civic Holiday has given us all an extra day off of work to take in more of the festivals that our cities have to offer. Jambana continues from yesterday just north of Toronto in Markham, Ontario while Ribfest concludes in Scarborough. Of course, there are many other events taking place throughout the city that people can enjoy.
Today's blog, however, isn't all about celebrating our city and the many great festivities that make it a great place to be during the summer. It's a message to business owners to remember that when people are out having fun, they present perfect opportunities to make new friends. And by making new friends, we mean gaining new customers! But how can you do that if you're joining them in all that fun?
Promotional gifts. "Promo gifts are great for the summertime festivals," reported one of our awesome clients just last week, "People are in great moods already so it makes it a lot easier to approach them to say 'hello'. I tend to make a bit of small talk and then hand them a promotional pen and I find it goes over very well. I always find that I increase the number of visitors to my store by doing this each summer."
Another way to make your promotional gifts work for you at these festivals is to become a sponsor of them. Naturally, when you put a little bit of money into being a festival sponsor, you will have the name of your brand promoted heavily both before and at the actual event. When the event arrives, your presence will be well recognized. Use this opportunity to meet with locals and have them leave with something special to remember you by.
"There's no question that promo gifts work better than business cards," stated our client, "They make people smile right way, I find. And that's because they know that the gifts are actually valuable. I see other business owners passing out flyers, but by the end of the night, they're all over the ground. I know that my promo gifts are going home with the people that I gave them too. It's a much better idea for businesses to give out promo gifts."
So what special event do you plan on attending today? If you're headed over to a festival without your promo gifts, you're surely losing out on a great opportunity to grow your customer base. Who doesn't like getting something for free? And what better chance will you have to give a wide range of people awesome reminders about where to shop if they are in need of your goods and services?
Don't leave home empty handed again! And at the next summer festival you attend, be sure to have its visitors not leave empty handed either. Synergy Marketing offers a wide range of promo gifts including pens, Frisbees, water bottles, key chains, sunglasses, flashlights and so much more. Getting your hands on the perfect promo gift for your business is as simple as giving us a call at 1-877-748-9884!
Comments Off on Summer Festivals Are Perfect For Promo Gift Giving