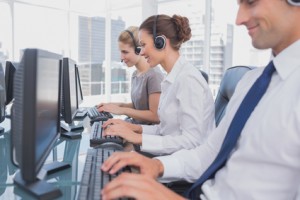 We've been talking a lot about happiness all week long, here on the Synergy Marketing Blog. To be specific, we've been discussing the happiness of your employees. Is there a more important element of your business than those who work for you? Of course, your customers mean the world to you. Without them, you'd have no business to run. But without your employees, how would you be able to run it? Keeping them happy is of paramount importance.
On BizFilings.com, it is stated that there are numerous reasons for employees to be unhappy with their jobs. And because of this, many businesses experience high turnover rates. In yesterday's blog, we detailed a number of reasons that employees may want to leave their jobs in hopes that you may find solutions to a possible high turnover rate at your company. There is, however, one point that we neglected to mention.
Unequal or substandard wage structures. This is a point not be left out. When workers feel that they are not being adequately paid, there is a high probability of them wanting to move on to another job. According to the site, "a new worker may wonder why the person next to him is receiving a higher wage for what is perceived to be the same work. You should have a wage and job evaluation system in place not only so that you are sure to comply with legal requirements, but also to avoid this problem."
The bottom – and obvious – line is that you don't want a high turnover at your company. Getting yourself a competent and committed staff will have a huge impact on how successful your business is overall. BizFilings.com lists a number of costs that come with having a high turnover. And, in case you weren't aware, the costs are plentiful and go a lot further than the financial impact that you may assume is the main issue.
Productivity. The more employees that leave your business, the less productive your business will be. This is because your other workers will have to take on the workload of the workers who have departed. As well, you'll be forced to replace those former employees with new ones who know less about the job than their predecessors. No matter how you slice it, the higher your turnover, the less your company is able to accomplish.
Money. Here's the one you may be worried about the most. And while it's not the only problem your company will encounter by having a high turnover, but it's certainly one that you can't avoid. And who likes losing money? BizFilings.com reveals that "you may have to pay employees overtime to get them to take up the slack left by the former employee until a replacement can be found. You may also have to face unemployment claims and pay for the cost of recruiting and hiring a replacement."
Time. So now you have to go and find new employees to replace your old ones. The site reminds us that you'll have to spend time advertising your new positions, interviewing new candidates and going through resumes until you've found who you've been looking for. Do you really want to be spending a lot of time doing that? Let's not forget the training of your new employees. Simply put, "when you lose a lot of employees, you're wasting time and money."
With all of that said, Synergy Marketing takes great pride in the enthusiastic and energetic staff that it has assembled. We do, however, maintain an interest in adding to our team. Are you looking to work in a fun environment where your hard work and dedication will be recognized and appreciated? Do you want to work among others who are motivated and determined at succeeding? Give us a call at 1-877-748-9884.
Comments Off on A Happy Staff Makes A Productive Business