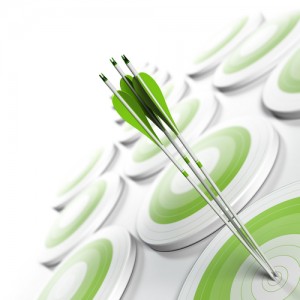 On the Synergy Marketing Blog, we often provide readers with a ton of useful information in the way of small business advertising. After all, it's what we do! By offering Canadian business owners the best promo products in the business, we offer ways for their brands to grow on the cheap. As we pointed out in yesterday's blog, the use of promotional gifts as part of an advertising strategy can be considered an "old school" method.
Business owners have been using promo gifts for so long that it has earned what we believe to be this long-standing excellent reputation. However, it's important that all business owners approach each and every one of their marketing campaigns carefully. As Greg Head writes on SmallBizTrends.com, "all successful businesses have a clear marketing strategy that makes everything they do more effective."
Here are three steps to ensure your marketing strategies are effective:
1. It all starts with defining your target customer. No matter what type of marketing strategy you employ, there must be some specific direction. You're not just advertising to anybody. You're targeting a specific audience that can most benefit from what you have to offer. According to Head, being this focused will be the difference between you growing your business profitably and not gaining any momentum for it at all.
"The first decision in any marketing strategy is to define your target customer," he insists, "'Who do you serve?' always needs to be answered clearly before you can execute any tactic effectively. This means you have to say 'no' to other potential customers who might buy from you but who are clearly bad fits for your narrow focus. This takes time to develop the discipline, but you can't do effective marketing without it."
2. It continues with offering a unique benefit. Something that you'll often see us asking in our blogs is "what makes your business different?" Standing out from your competition is a key ingredient in securing business success. As Head reiterates, your company should be able to offer its clientele a unique benefit. He suggests that you keep your product descriptions simple, with a focus on the benefits that only they can give.
"Your unique benefit should highlight the one (or two) main things your product or service actually delivers (benefits) that your target customer really wants, not a long list of all the things your product does (features)," he advises, noting that his own software company, Infusionsoft practices this tip. "We don't describe everything our software does or the hundreds of benefits, we keep our focus on those three key benefits in everything we do," he reveals.
3. It also involves knowing your competition. How can you beat your competitors if you don't know who they are? It's important to be up on what your competition is doing. Study what they are offering and how they are advertising it. Find ways to showcase to your target audience that what you have to offer is superior and come up with a superior way to communicate that. This greatly influences the buying public.
"When someone is looking to buy a solution to a problem, they will quickly make sense of the alternatives to compare against – your competition," states Head, "However, most entrepreneurs haven't specifically defined who their real competition is and don't focus their messages to create clear differentiation for their buyers. This frustrates the buying decision process and makes your marketing efforts weaker."
Comments Off on 3 Steps To Ensure Your Marketing Strategies Are Effective