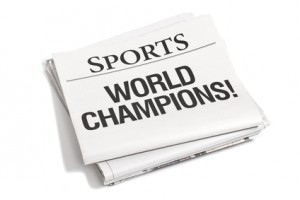 Well, it was certainly and exciting weekend in the world of sports. The World Cup kicked off in Brazil and already, there have been some eyebrow-raising upsets and incredible plays on the pitch. Soccer ("futbol" for the real die-hards) fans all across the world have been glued to their TV sets watching what is arguably the most beloved tournament in all of sports. But it will be weeks before a champion is crowned.
This past weekend, however, saw the crowning of two new champions in North American professional sports. On Friday, the Los Angeles Kings bested the New York Rangers in just the fifth game of the Stanley Cup Finals to win their second cup in three years. They last won it in their shocking playoff run of 2012. In 2014, it would be fair to say that their latest championship run was equally as surprising.
"The Kings kind of crept into the playoffs as the sixth seed in the Western Conference," reminded one of our Synergy Marketing team members this morning, "It just goes to show you that you never know what will happen in sports. Once you get to the playoffs, it's a whole other game. It's just too bad that the series only went five games though. You kind of always like to see game sevens."
And while a sixth and seventh game were clearly not necessary to decide upon this year's Stanley Cup Champions, there was no shortage of excitement during the finals, In fact, Friday's Cup-clinching victory was taken into double overtime. "That was crazy," commented our rep, "Overtime wins are always exciting no matter who gets them, because it's do-or-die, last goal wins it all."
Overtime wasn't necessary at all for the San Antonio Spurs to reclaim their place at the top of the NBA mountain last night in Game 5 against last year's champions, the Miami Heat. After overcoming an early deficit, the Spurs went on a rout to dismantle the Heat by a final score of 104-87. "It was over before it was over," offered another member of our staff, "It just didn't look like the Heat wanted it as much this year."
It would be hard to argue with that. All four of the Spurs' wins in the NBA Finals were by sizeable margins. They were clearly the better team although they were playing against the often-touted LeBron James who led the Heat to championships in the past two NBA seasons. Instead of a "threepeat", however, James was forced to endure some revenge at the hands of the Spurs who lost in seven games to the Heat last year.
"I wonder if there is something to wearing black and white uniforms that just help you get rings," joked our team member, noting that both the Kings and Spurs have similar colour schemes for their team uniforms, "They both got revenge this year. The Kings are back on top and the Spurs beat the guys who broke their hearts a year ago. I don't know, I'm just saying, it's an interesting coincidence."
Perhaps, it is coincidence that the black-and-white-clad teams of the NHL and NBA respectively have claimed championships over the weekend. And then again, maybe hard work, determination and an undying need to succeed is what propelled the Kings and Spurs to become champions. We congratulate both teams on their fantastic seasons as we look forward to a fantastic World Cup tournament. Anyone know if there is a country that wears black and white?
Comments Off on Kings And Spurs On Top Of The World!