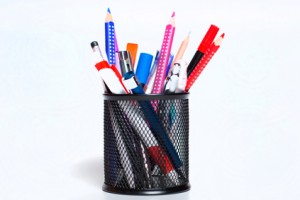 Giving someone a gift that he or she will actually use and enjoy is a surefire way to make a good impression. This very practice in the business world is what makes promotional products such excellent marketing tools. If you really want to make a good impression, a gift recipient must be able to get some good use out of the gift received. Promo gifts work because they are not just advertisements, they are useful items.
But what are the best promo gifts to give out? The answers vary from business to business. Depending on your industry and the nature of your company, the types of promo gifts that are best suited for your next marketing campaign can change. That said, there are some go-to gifts that work wonders for entrepreneurs no matter what type of business they own. On TopTenReviews.com, Danny Chadwick points a couple of them out.
Pens. "There is a reason that pens are the most common promotional item you see," writes Chadwick, "And that is because they are effective." We've said it before and we'll say it again. Pens remain popularly-used items on a daily basis regardless of how much of a digital world we now live in. When your company's name and logo is seen on something that is used every day, it leaves an impression.
As Chadwick notes, "pens, despite being small, have a good deal of prime branding real estate for communicating crucial information. If people use pens with your logo, website and phone number on them, that information sticks in their heads." Keep in mind, as well, that pens don't just advertise to their recipients. Pens are commonly borrowed. The more they get passed around, the more your company receives acclaim.
"Pens have a way of finding multiple owners over the course of their useable lifetime," says Chadwick, "It creates an effect that's almost like word-of-mouth, only the word is a physical item and the mouth is people swapping pens." The next time someone wants to borrow your pen, be sure that it has your company name and contact information on it. Then tell that person to keep it! You will be rewarded in the long run.
Drinkware. It seems like the majority of Canadians simply must have their morning coffees. Even in the summer, for most, there's no resisting that hot beverage first thing each day. So why not have your business be part of that popular morning routine? Place your company name and logo on a coffee mug, and just like with pens, you'll be advertising your business on a daily basis. Chadwick speaks to this point as well.
"There's something about a free coffee mug that makes people want to keep it around forever," he writes, "It's possibly because they're thick and heavy and feel good in your hand. But more likely, it's because they're a functional thing that people use every day. When people use something every day, they keep it around for a long time. This longevity makes mugs and glasses ideal promotional gifts."
At Synergy Marketing, we offer high-quality pens and drinkware. Among our most popular items, these gifts have lasting power. Why put your company name and logo on something that will just get thrown out? Your business card may not have as much effectiveness as you think it does. Contact one of our friendly sales reps today at 1-877-748-9884 to order the pen, mug or water bottle of your choice. You can't go wrong!
Comments Off on You Can't Go Wrong With Pens And Mugs