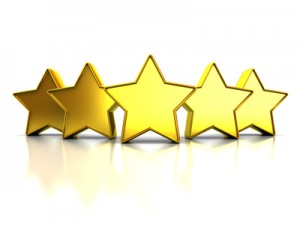 In yesterday's blog, we listed a number of ways that you can gain new fans for your business. As we've pointing out on the Synergy Marketing Blog all week long, being a business owner is not too different than being a pro sports team coach. One, it's your job to ensure that your team members are working well together and performing at their best. Two, it's your duty to ensure that your organization is one that is able to continually gain favour with the general public.
So what can you do to become a star in the eyes of your customers? Here are three ways:
1. Team up with other businesses. If you're looking to expand your fan base, why not attempt to attract the fans of other companies by joining up with them? Working out a "scratch my back and I'll scratch yours" agreement with business owners who don't represent your competition is a fantastic way to get introduced to consumers you otherwise would never meet. On Entrepreneur.com, Brad Sugars further describes such an agreement.
"Another way to leverage available resources is through what's known as a 'host-beneficiary' arrangement," he explains, "In this arrangement, another business with the same target customer will use their database to promote your business. They might attach a gift voucher or other discount offer for your products at the end of one of a newsletter or mailing. Examples of this include: a high-end hair salon and a high-end car dealership or an attorney and an accountant."
2. Offer free trials. There are few things that entice customers to try products more than being able to do so for free. At Synergy Marketing, we highly tout the concept of free giveaways considering that our promotional products have notoriously worked so well in gaining business owners greater support. Use the same concept by offering up free trials of your products to get new customers to realize just how great they are.
On Bplans.com, Briana Morgaine explains that, if you are confident in the products you sell (and you certainly should be, or shouldn't be selling them!), it will be worth your while to allow people to try them out at no cost. "Instil in this potential customer the value of your product (by offering a free trial), and make it clear that your product or service is truly exemplary," she writes, "Do this, offer great service, and you'll likely be able to convert them into a loyal customer."
3. Offer free services in exchange for customer testimonials. If you offer services as opposed to products, the "free giveaway" concept can still work wonders. In this case, offer up new customers the opportunities to try your services out for free. In return, request that they share their positive experiences with working with your company. This provides a double benefit. Firstly, provided that you satisfy the new customer, you'll likely secure him/her as a new loyal supporter.
Secondly, his/her testimonial will encourage other consumers to become fans of your brand as well! "If you are a service-based business, offering your service for free, in exchange for the client serving as a 'case study' or providing a detailed account of the benefits of your service can be a great way to get new clients," assures Morgaine.
If you'd like to add high-quality promo gifts bearing your company's name and logo to your free giveaway marketing strategy, you know who to contact! To place your order for the promo gift of your choice, call Synergy Marketing at 1-877-748-9884 between 9am and 5pm EST or email us at info@gosynergygo.com! You can also sign up for our Insider E-Flyer Program HERE!
Comments Off on 3 Ways To Become A Star In The Eyes Of Your Customers