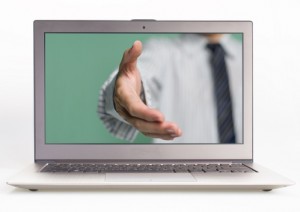 In yesterday's blog, we discussed the importance of blogging and just how much it can help to grow your company's online presence. As we mentioned, it has certainly worked for us. Not only do we post a new blog to our website each business day of the week, but we also add links to those blog posts to our Facebook and Twitter profiles. This has helped us to grow our likes and followers respectively. But what else can help you to grow your company's reach online?
Here are four steps to growing your company's online reach:
1. Keep active on your social media accounts. Hopefully, this tip isn't completely necessary. Having social media profiles allows you to interact with members of your customer base so that they can gain a greater understanding about what you have to offer. The key, as always, is to be social as opposed to being a blatant advertiser. On Chron.com, Gemma Craig describes the importance of being active on social media.
"Social media networks allow individuals to follow your company or event and make it easy for you to keep your followers updated," she writes, "You can integrate your social media accounts into your website or blog via widgets and links, increasing its exposure, and can use social media to post specials just for your followers, encouraging new visitors to join your pages." As mentioned, this has significantly helped us to grow our reach online.
2. Write blogs for other websites. Blogging for your own website is a great idea. As we pointed out yesterday, it helps for search engines to better pick up your website. Thus, you increase website traffic. However, it's also a good idea to spread your expertise by becoming a guest author on other websites. Even if you're not writing blogs yourself, get your blog writers to contribute blogs to sites that will add links to your own.
If it's one thing that all blogs want, it is more content, insists Neil Patel on QuickSprout.com. "If you write guest blog posts on other blogs, not only will you get traffic and more branding, but you'll also get links, which will help your SEO efforts," he writes, "If you are looking to find places to guest blog, you can check out My Blog Guest, or you can approach popular blogs in your field one by one."
3. Partner up with other businesses. This is certainly a tip that we've doled out before. But, in this case, we mean to say that you should try to swap advertising space on your website for space on other company websites. That way, you'll be able to generate a lot more traffic from people who may otherwise never have heard of your business. Create a "links" page on your website to offer this service to would-be partners.
"Some advertisement companies offer special promotions that allow you to advertise your company or event online for a certain duration free of charge, at which point you can pay to continue advertising if it has proved useful to your campaign," reveals Craig, "Alternatively, you can find websites that have a readership relevant to your company or event and pay for advertisement space."
4. Be a trusted source of information. Part of engaging an audience online is being able to provide information that is relevant to your business. "From forums to question and answer sites, people need help," informs Patel, "If you can answer questions related to the products and services your company provides, you can get new customers. You can find these potential customers on forums and on question and answer sites like Yahoo Answers."
Comments Off on 4 Steps To Growing Your Company's Online Reach