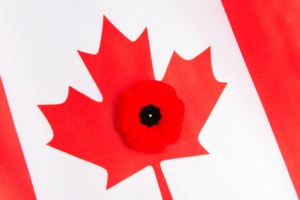 The staff, here at Synergy Marketing, would like to take this opportunity to offer our sincerest and most heartfelt appreciation to all Canadians who serve or who have ever served our country as part of our armed forces. To these amazing individuals and their families, we send our deepest gratitude. As well, as we commemorate Remembrance Day today, we offer our sincere condolences to all those who have suffered loss at the hands of war.
Of course, each and every year on today's date, Canadians acknowledge those who have served in the military with a specific focus on the lives that have been lost as a result. But this year's Remembrance Day is having an even greater impact on Canadians that it does most years. As we all know, it was just a few short weeks ago that Cpl. Nathan Cirillo was shot and killed in Ottawa while standing guard on Parliament Hill.
Troubling subjects such as these are not common on the Synergy Marketing Blog. But today, we felt that there was no topic more important to discuss. In fact, as of this writing, there is a massive crowd gathering at Ottawa's National War Memorial. CBC News is carrying a live blog covering the event on their website. Emotions are high, needless to say. And even for the many Canadians who can't take part in person, their thoughts are present.
"It's more of an emotional Remembrance Day this year," offered one of Synergy Marketing's sales reps this morning, "With what just happened in Ottawa, it really hits home that we have a long way to go before we can really feel a sense of peace in our world. I'm just happy that Canadians are united in celebrating what is great about this country and not focusing on the negative. Our war veterans deserve to be celebrated today and every day."
It certainly feels that the majority of Canadians feel the same way. As CBC News reports, poppy sales, this year, have broken records. The long-time symbol of remembrance for our fallen troops, the poppy is a popular part of the attire of Canadians throughout the first few weeks of November. And it has never been more special a symbol than today. They are everywhere. This is especially true for today's event in Ottawa.
CBC's Hannah Thibedeau reports that "about 80,000 people are expected to attend the Ottawa ceremony, the largest crowd since 1939, when it reached 100,000. Typically, about 35,000 people turn out each year." CBC News notes that "the commemoration will include the familiar rituals of the piper's lament, Last Post, the artillery salute and the recitation of the Act of Remembrance taken from Laurence Binyon's poem, For the Fallen."
In Synergy Marketing's hometown of Toronto, there are Remembrance Day events taking place at various locations including Queen's Park. As we post today's blog, at approximately 11:00 a.m., these ceremonies will all be officially commencing. As you may know, both that time and today's date – 11/11 – have a special meaning. No matter where you are in Canada today, we are united as Canadians during this time.
Today is all about those who make or have made ultimate sacrifices for our nation. And as CBC News points out, it's for all those who serve our nation – be it in the past, present or future. This is why there is a new inscription at Ottawa's National War Memorial which reads: "In Service to Canada — Au service du Canada." Today, we remember you all with fondness, extreme gratitude and great respect.
Comments Off on Acknowledging A Special Remembrance Day