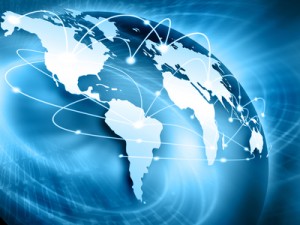 Many Canadian business owners are very proud to be Canadian. Why wouldn't they be? But some are so proud of their maple leaf-laden roots that they refuse to sell to Canadians only. Instead, they love the opportunity to distribute their Canadian-made goods and services to customers from all over the world. In today's world, being able to market your business as an international entity requires a strong website. But it also requires some smart marketing.
Here are four ways to market your business to customers overseas:
1. Promote a "Made In Canada" campaign. It's no secret that Canada has established quite the rapport with countries all over the world. If you're looking to cash in on our nation's stellar reputation, it won't hurt you to run a "Made In Canada" campaign on your website. You may even want to offer special shipping discounts to overseas orders of two or more of your products in order to encourage more sales.
2. Be able to communicate in other languages. This task may seem a bit difficult. But, keep in mind that we're not exactly telling you that you need to learn a new language. Instead, you may want to consider having your website translated into the world's most popular languages. That way, people from non-English speaking nations will be encouraged to visit your website and learn more about your business.
"Having your site translated into other languages is a huge advantage to marketing to an international audience, but having a deep understanding of your own and other's cultures is also important," writes Erica Swallow on Mashable.com, "The first step to improving cross-cultural competency is understanding the cultural barriers within which you and others in your business operate."
3. Become noticeable at tourist spots. Canada welcomes tourists from all over the world all year round. So it pays to find ways to get those visitors information about your business while they are here. Where do tourists visit when they're in your hometown? Find ways to get your flyers, pamphlets and posters in those areas. On the UK-based Marketing Donut website, this tip is communicated.
"If you print them, they will come," states the site, "Brochures, leaflets and cards can be left at bureaus in airports, seaports and major rail termini — anywhere tourists pass through or congregate. Tourist information centres, found in every major town and city in the UK, are obvious places to advertise your business' unique British selling point." The same thing can certainly work for Canadian businesses.
4. Research cultural perceptions. It's important to keep in mind that every country in the world has its own perception of colours and images. Perhaps, changing up the colours and images on your site to convey certain messages to your international audience is in order. "Colours and symbols are deeply ingrained in cultures; research perceptions of colours and symbols among your target audience and adapt accordingly," advises Swallow.
She goes on to explain that "in most of Europe and the Americas, for example, white is associated with purity and marriage. In Japan, China and parts of Africa, though, white is traditionally the color of mourning. But don't be fooled — in Westernized Asian cities, white weddings are becoming more common. Beyond colours, make sure any icons, logos or graphics you are using are acceptable and looked upon in good light in areas you wish to reach."
Comments Off on 4 Ways To Market Your Business To Customers Overseas