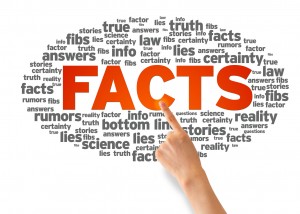 If you're a Canadian business owner who has been hesitant to give promotional gifts a try, you're not alone. However, you're part of a group that is significantly declining in numbers. Entrepreneurs from all over this great country of ours have been using promo gifts for many years in order to grow their businesses. And they work! As we've long established on the Synergy Marketing Blog, promotional products work to garner referrals and increase sales.
In yesterday's blog, we pointed out some amazing facts that confirm that promo gifts have the ability to provide your company with long-lasting advertising power. As Jansen White points out on SageWorld.com, "consumers hang on to promotional products for an average of 6.6 months." This stat comes courtesy of Advertising Specialty Institute. Consider the staying power of the promo gifts you decide to hand out to your customers. The facts don't lie.
Here are five more fascinating facts about promo gifts:
1. Promotional products are known for increasing customer bases. All business owners are looking for more customers. Promo gifts have proven to be viable options for accomplishing that task. "Before receiving a promotional product, 55 percent of people had done business with the advertiser," writes White, "After receiving a promotional product, 85 percent of people did business with the advertiser."
2. Promo gifts made for the kitchen are especially popular. At Synergy Marketing, we offer an array of Knives & Tools as well as Drinkware. Most of the products found in these categories are ideal for kitchen use. And people use their kitchens every day don't they? "91% of consumers have at least one promotional product in their kitchen," reveals ePromos.com, courtesy of Promotional Products Association International (PPAI).
3. Promo gifts enhance marketing campaigns. "Adding a promotional product to the media mix generated favorable attitudes toward a print ad in all cases," says PromotionalProductsWork.org, "The use of a promotional product as the advertising medium alone achieved maximum impact, up to 69% increasing brand interest and 84% in creating a good impression of the brand."
4. The usefulness of promotional gifts makes them powerful advertising sources. It cannot be stressed enough that promo gifts are handy items. This makes them more worthwhile than any other source of advertising. According to White, "seventy-seven percent of consumers say a promotional product's usefulness is the number-one reason to keep it, with health and safety products, computer products and writing instruments ranked as the most useful."
5. The advertising power of a promo gift lasts a very long time. Promotional products are gifts that keep on giving, says PromotionalProductsWork.org. The site reveals the findings of a PPAI study that found that "58% of respondents keep a promotional product anywhere from one year to more than four years. Even if the recipient uses the item only once per week, that's a minimum of 52 impressions made over the course of a year with the possibility of more than 208 during a five-year window."
To place your order for the promo gift of your choice, call Synergy Marketing at 1-877-748-9884 between 9am and 5pm EST or email us at info@gosynergygo.com!
Comments Off on 5 More Fascinating Facts About Promo Gifts