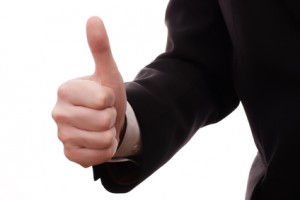 "As you know, gaining your customer's confidence can take years," writes John Marshall on Results-Driven.com, "It takes hard work, exceeding their expectations, being there when they need you, and going above and beyond. And as long as it takes you to build their confidence, it can take only days or just one awkward situation to lose it. Yes, it can happen that quickly."
In yesterday's blog, we reviewed four steps – as outlined by Marshall – that should be taken by business owners when trying to rebuild their businesses. The steps, which came in the form of questions that entrepreneurs need to answer, are what need to initially be taken in order to set your business back on track. Falling off track in the business world is not all that uncommon, but finding your way back is as hugely important undertaking.
As Marshall insists, making good with your disgruntled customers is a big part of regaining a positive perception of your business. And if you feel that your customers have lost confidence in you, you'll need to know what to do to set things right. Thankfully, Marshall lists a number of suggestions for ways that you can re-establish a rapport with your clients.
Admit fault. It doesn't matter if it's the order desk, the warehouse, the photocopier or even your dog, says Marshall, it's important that you hold yourself accountable for the issues that your customers are having with your business. Taking the blame for making someone unhappy is the first step to reversing that feeling. Assume responsibility and work towards fixing the problem.
Apologize and mean it when you say it. "Don't have the words sound hollow," insists Marshall. This turns customers right off. We've all heard a "sorry" that didn't sound sincere in our lives. It only serves to make matters worse. Be sure to apologize with a sense of honestly and humility and seek to make the customer feel better about the situation. Regaining a customer's trust will play a huge role in how you move forward.
Meet your customers in person. If you really want to show how sincere you are about retaining a customer's business, you should meet up face to face. This way, you'll be able to show through your words, body language and the gesture of an in-person meeting itself that you truly care about solving the problem. Ask questions to discover exactly what is wrong. Take notes and work towards a true resolution.
Accept feedback. You're not expected to be a mind reader. You may know the problem, but not necessarily know what will satisfy the customer in order to solve it. "Once you know the true cause of the issue, ask the customer what they feel is an appropriate solution to their issue," recommends Marshall, "Often customers will ask for a lot less than you anticipate."
Provide value through your solution. Don't skimp out, says Marshall. Make sure that what you offer cannot be interpreted as "cheap or inadequate." He uses the example of a bakery giving away "yesterday's stale bread as a token of your generosity." Your final gesture may literally be your final interaction with your customers if it is deemed unsatisfactory. Don't lose your customer forever!
Comments Off on 5 Ways To Regain Customer Confidence