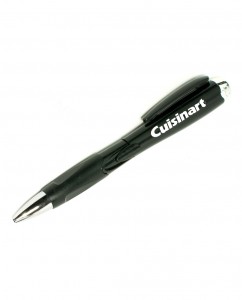 The Synergy Marketing Blog is an excellent source of business information for entrepreneurs from all walks of life. We're quite proud of the amount of content that we've added to our website over the years. At this point, our blog includes countless lists of tips and advice that help business owners to grow their businesses. At Synergy Marketing, that is what we do. We help our clients to advance their companies in ways that no one else can.
Of course, it isn't just our blog that helps out. We're known for providing Canadian business owners with the best promo products in the business! We're confident that we can stand by that claim because of our history of helping entrepreneurs garner referrals, increase sales and grow stronger relationships with their customers. Now, you don't have to take our word for it. On ePromos.com, it is explained that there is statistical proof to support the power of promo gifts.
83% of consumers like receiving a promotional product with an advertising message. This statistic, which is provided by Promotional Products Association International (PPAI), speaks to a simple fact about human nature. People like getting things for free. It's that simple. When you consider the marketing strategy that is the handing out of promo gifts, know that it speaks to this basic human desire better than any other type of advertising out there.
After receiving a promotional product, 85% of consumers do business with the advertiser. This PPAI stat proves that promo gifts work. They not only serve as reminders to recipients about where to shop, but they also come in handy on a daily basis. This is one of the key benefits to giving out promo gifts. Flyers and business cards get thrown away. Pens, key chains and flashlights get used regularly. It's advertising that has staying power!
90.4% of people report currently owning or possessing a promotional product received in the last 24 months. Speaking of staying power, how's that for determining the power of the promo gift? If you hand someone a promo gift, that person is bound to hang on to it for at least two years. At least, this is what PPAI reports. Can you think of another advertising strategy that will have the same kind of long-lasting impact?
89% of consumers can recall the name of the advertisers on a promotional product they received in the past 24 months. Do you want to be memorable? Are you looking to outshine your competition? According to PPAI, you could do a lot worse than hand out promo gifts to your customers. Evidently, they help for people to remember the businesses that gave them out. If you want your business to be remembered, you'll hand out promo gifts to your customers.
53% of consumers use a promotional product at least once a week or more. Okay, so here's the deal. Chances are that when you hand out promo gifts bearing your company's name and logo, more than half of your recipients are going to use it on a weekly basis. The bottom line is that promo gifts work. And they're a lot less expensive than traditional marketing strategies. So how can you go wrong?
Contact Synergy Marketing to order the promotional product that will work best to promote your business. Our friendly and experienced sales reps look forward to speaking with you and helping you select the perfect promo gift. Give us a call at 1-877-748-9884!
Comments Off on Stats Show The True Power Of The Promo Gift