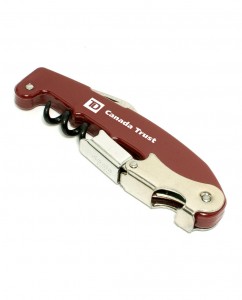 Choosing the right promotional product to advertise your business is a very important part of the business advertising process. By now, it should go without saying that promo gifts are both cost-efficient and highly effective ways to grow your brand. But will any gift do the trick? In many cases, there are those "go-to" promo gifts that work wonders no matter type of business you are promoting. Pens are perfect examples.
Even in today's digital-crazed world, we still all need pens, right? In other cases, you may want to stick to a promotional gift that is more closely associated with your industry. Our breathalyzer key chains, for example, are highly regarded by our clients who work in the automotive industry. For obvious reasons, it serves them well to hand out promotional products that their customers (all drivers, of course) can use.
So what's the right promo gift for your business? Again, making the right choice is important. This is why we highly recommend a chat with one of our friendly and knowledgeable sales reps. They are experts in helping you to decide upon the right gift for your specific business. Give them a call at 1-877-748-9884. And when you do, you may want to keep a few things of the following things in mind.
Here are five ways to go about choosing the right promo gift for your business:
1. Growing company pride. You're proud of your business. And you want your employees to feel exactly the same way, right? Promo gifts are excellent ways to grow company pride. So arguably, there is no one better than the members of your staff to honour with gifts. As VerifiedLabel.com points out, "employees generally appreciate corporate apparel, because they can wear it to work each day."
2. Standing out and staying memorable. Your promo gift should serve to separate you from your competition. They especially work well at trade shows. While so many others are handing out their boring and traditional business cards, you should be handing out useful gifts that will remain with their recipients a lot longer. "At trade shows, gadgets like key chains, stress balls, or personalized luggage tags make great giveaways," informs VerifiedLabel.com.
3. Celebrating the season. Naturally, many promo gifts have seasonal implications. During the holidays, our Christmas cards are obviously quite popular. But with winter winding down and warmer months ahead, some other gifts become more effective. "Outdoor special events such as golf tournaments, races, or picnics are the perfect opportunity to offer customized t-shirts, visors, Frisbees, drink cozies, sunscreen, or even picnic blankets," says VerifiedLabel.com.
4. Impressing high-end customers. Some customers are more loyal than others. Some spend more money in your store than others. These individuals, quite obviously represent your most important customers. Sometimes, it's important to treat them to something special to let them know how much you appreciate their business. In such cases, you'll want to do more than hand out traditional promo gifts. Going a big more high-end – say with a wine set – may be in order.
5. Impressing at upscale events. "Create 'goodie bags' for galas, benefits, and other upscale evening events with small, easily transported items that party-goers will use during the party, such as private-label water bottles, snacks, or cigars," suggests VerifiedLabel.com, "Include other items for entertaining at home, like corkscrews." For more information on the various promotional products offered by Synergy Marketing, remember to call 1-877-748-9884.
Comments Off on 5 Ways To Go About Choosing The Right Promo Gift